Van Pelt-Dietrich Library Center, first floor plan and location notes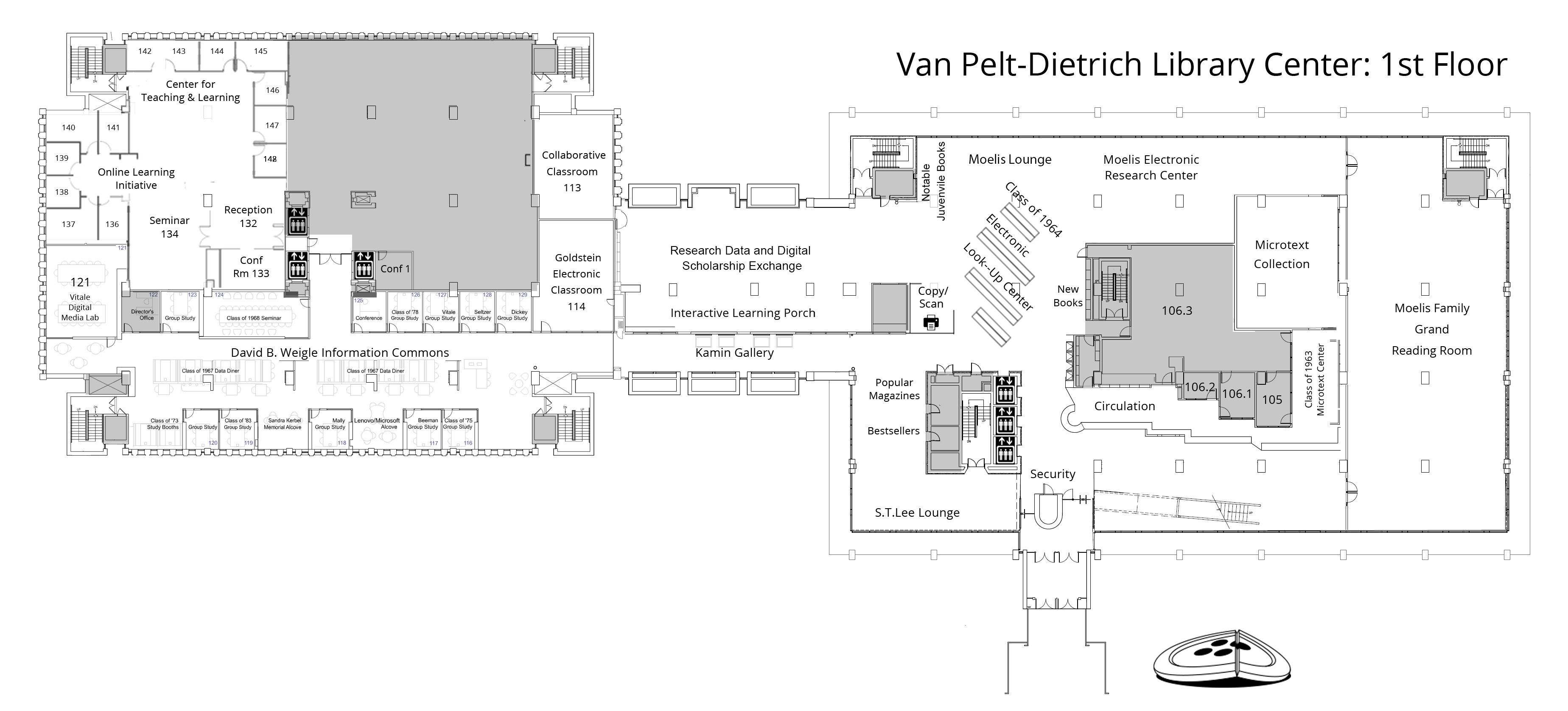 In the building's east wing and the neck between wings, the first floor holds the Moelis Family Grand Reading Room, popular magazines, reference stacks, the Collaborative Classroom, Government Documents, Goldstein Electronic Classroom (Room 114), Kamin Gallery, Card Catalog, PennCash center, Class of 1964 Electronic Look-up Center, Moelis Lounge, Moelis Electronic Research Center, Information Desk, Circulation, Current Periodicals, Class of 1963 Microtext Center, Daily Newspapers, New Books, New York Times (NYT) Best Sellers, S. T. Lee Lounge, and the Interactive Learning Porch. In the first floor west wing are
The David B. Weigle Information Commons - with the Alberto Vitale Digital Media Lab, Group Study Rooms (Rooms 115, 116, 117, 118, 119, 120, 123, 124, 125, 126, 127, 128, 129), Julia & Edward P. Mally Group Study Room, Lenova/Microsoft Alcove, Sandra Kerbel Memorial Alcove, Richard R. Beeman Group Study Room, Class of 1967 Data Diner, Class of 1968 Seminar Room, Class of 1973 Study Booths, Class of 1975 Consultation Booth, Class of 1978 Group Study Room, Class of 1983 Group Study Room; Annie, Pamela, Ian, & Jeffrey L. Seltzer Family Group Study Room; Charles Dickey Group Study Room.
The Teaching Research, & Learning (TRL) consultation rooms and offices.
The Center for Teaching & Learning, the Online Learning Initiative, and the Learning Analytics offices.
There are no bathrooms on the first floor of the Van Pelt-Dietrich Library Center. The Libraries' biggest bathrooms are located on the ground floor.