Gershwind/Bennett Endowed Fund for Judaica Collections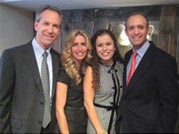 In 2006, Penn Alumni Erik Gershwind W'93 and his sister Stacey (Gershwind) Bennett C'95 established the Gershwind/Bennett Fund to support acquisitions in Judaica.
"Our family is committed to helping preserve and enhance the Jewish way of life around the world," says Erik. "We view investing in the study and development of Jewish scholarship as an important part of our commitment."
A 1993 graduate in economics of the Wharton School of Business, Erik went on to receive his J.D. from Harvard Law School. He now serves as the Senior Vice President of Marketing, Strategy and Business Development for MSC Industrial Direct--one of the premier distributors of Metalworking and Maintenance, Repair and Operations (MRO) supplies to industrial customers throughout the United States. We were delighted when Erik agreed to join the Penn Libraries Board of Overseers in 2004. He also serves on the Board of Directors for the New Leadership Committee of UJA Federation of New York and Fresh Meadow Country Club in Great Neck, New York. Erik is active in a number of local organizations near his Brookville home, where he lives with his wife and two children.
Stacey graduated summa cum laude from Penn's College of Arts and Sciences, with a major in economics, and a minor in Hebrew. During her junior and senior years, she capitalized on her fluency in Hebrew, serving as in intern at the Israeli Consulate in Philadelphia. Stacey continued her education at NYU Law School, graduating Order of the Coif with a J.D., and an LL.M. She went on to practice trusts and estates law at Cravath, Swaine, and Moore, and is now working as a full-time mother of three.
In addition to the acquisitions endowment fund, Erik and Stacey have established a fund to support the digitization of American Judaica, making it available to scholars, alumni and friends around the world. They have also created a fund to support programs at Penn Libraries that explore Jewish culture through exhibits, lectures, and concerts.