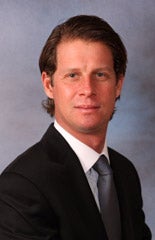 Established in 2010 by James S. Blank, C'88, the James S. Blank Endowment Fund supports acquisitions in the area of culinary history.
"I established the fund because I wanted to give back to Penn in a way that evoked something that I am passionate about, that is the subject of studies at Penn and that would be of interest to Penn students. When I was approached by the Penn Libraries and began to discuss my interests, it immediately dawned upon me that the fund and my passion for culinary history were a perfect match."
Jim graduated from Penn in 1988 with a major in political science, and went on to earn his law degree from New York Law School. He is a partner in the New York office of Kaye Scholer LLP, where he focuses his practice on patent litigation. Jim also serves on the Orrery Society Regional Advisory Council of New York, the volunteer leadership group dedicated to raising awareness of, and funds to support the digital and print collections at Penn Libraries.
Jim resides in Manhattan with his two daughters, Lucy and Isabelle.