Lachs-Adler Family Endowed Fund for Collection Development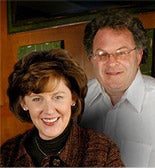 Susanna E. Lachs, Esq., College for Women, 1974, and Master of Arts in Communication, Annenberg School of Communication, 1976, and Dean Stewart Adler, Esq., Wharton, 1979, and JD, Penn Law School, 1983, established this fund in 2005 to support Penn Library acquisitions in any field of study.
When a senior at Penn, Susanna Lachs was elected to Mortar Board, in recognition for her achievements in scholarship, leadership, and service. Following her successful career at Penn, she received her law degree at Temple University and served as a trial lawyer for 22 years.
Now dedicated to "giving back," she is a Penn Library Overseer, a Trustee of Temple University, a member of the Board of Visitors of Temple University School of Law, a member of the Trustees' Council of Penn Women, and an officer at Temple Adath Israel, the Shipley School, and the Auerbach Central Agency for Jewish Education.
Dean Adler is a principal and co-founder of Lubert-Adler Partners, which invests private real estate equity on behalf of major university endowments, as well as other institutional pension funds. While at Penn Law School, Mr. Adler was an instructor at the Wharton School ( 1981-1983) and was recognized for teaching excellence ( 1982). He currently serves on the Board of Directors of Bed Bath & Beyond, a NASDAQ-listed company, as well as Developers Diversified Realty Corporation, an NYSE-listed REIT. He is a member of the Executive Board of the Wharton School's Zell/Lurie Real Estate Center, and is involved with various philanthropic causes both locally and nationally.
Dean Adler and Susanna Lachs are generous supporters of the University of Pennsylvania. In addition to their Penn Library collections fund, their contributions support undergraduate financial aid, the Penn Law School, teaching and research at the Wharton School's Zell/Lurie Real Estate Center, the Center for Advanced Judaic Studies, and a new Penn endeavor to establish the Teacher's Institute of Philadelphia.