Diversity in the Stacks: LGBTQ+ Lives on Screen
Diversity in the Stacks aims to build library collections that represent and reflect the University's diverse population.
Penn Libraries has been collecting film and media that focuses on LGBTQ+ issues, gender and sexuality for several decades. This collection—which ranges from narrative, documentary, and experimental films to mainstream television series—has grown in recent years to comprise a significant part of the Libraries' film catalog. Our LGBTQ+ film collection documents gay and lesbian history around the world, as well as the increasing acceptance of and shifting public opinion about LGBTQ+ people across cultures.
What constitutes an LGBTQ+ film is not always easy to define, although a Franklin catalog search of select LGBT terms yields well over 2,500 films that represent lesbian, gay, bi, trans, queer, or other sexual-minority characters, filmmakers, or subject matter. This depth and variety is the result of having invested in a range of materials, but particularly in DVDs for the Van Pelt Video Collection. The collection includes everything from gay and lesbian films in relatively mainstream major studio productions of recent years to lesser known films from other eras. 
The story of queer film begins with early cinema and silent film. Early works are represented in the collection by European films such as the Weimar-era Anders als die Andern (Different from the Others) (1919), about a violinist who falls in love with his male student. There is also Carl Dreyer's Michael (1922), about an artist who falls in love with a student who then leaves him for a woman, or I Don't Want to Be a Man (1917), an Ernst Lubitsch film about a woman who cross-dresses as a man. Films from this period are especially appropriate and relevant for courses such as Queer German Cinema, a class taught by German professor Ian Fleishman this spring semester.
Midcentury films took advantage of adjustments in the MPAA Production Code as of 1961 to begin to allow portrayals of "deviant sexual behavior" and homosexuality if shown in a certain light. Researchers can find examples of film censors' commentary in the online archive of MPAA Production Code Administration Files, Hollywood, Censorship, and the Motion Picture Production Code, 1927-1968.  In Out at the Movies: A History of Gay Cinema, film scholar Steven Paul Davies describes the "victims, villains, and sissies" who made it to screens in the 1960s as tragic figures, but in ways that were more visible than in decades prior. 
This was perhaps the first time that scenes in gay bars appeared in films such as Basil Dearden's British film Victim(1961) or Otto Preminger's Advise and Consent (1962). The sixties also brought us films featuring "shocking" depictions of lesbians, like Shirley Maclaine in The Children's Hour (1961) or the German film Thérèse and Isabelle (1968). Midnight Cowboy, the Academy Award Winner for Best Picture in 1969, definitively marked the entrance of queer cinema into the mainstream. 
In addition to such well-known films, Penn Libraries houses a variety of gay underground and avant-garde works, from Kenneth Anger and Andy Warhol to the restored version of Shirley Clarke's cinéma-vérité documentary, Portrait of Jason (1967).
After the sexual revolution of the 1960s and the 1969 Stonewall riots, depictions of queer characters became increasingly common. Films like The Rocky Horror Picture Show (1975) and John Waters' Pink Flamingos (1972) went on to gain cult status for their unabashed explorations of sexuality. 
Throughout the 1980s and 1990s, portrayals of gay characters grew more nuanced and serious. Independent LGBTQ+ films and films considered part of the wave of New Queer Cinema are well represented in the Penn Libraries collections. Works that preceded the "reclaiming" of the word queer include Gus Van Sant's Mala Noche (1985) and My Own Private Idaho (1991) as well as Stephen Frears' My Beautiful Laundrette (1985) and Prick Up Your Ears(1987). Later, in the early nineties, films by Todd Haynes and Gregg Araki began to shape the direction of New Queer Cinema, in particular Poison (1991) or The Living End (1992), a low-budget indie road movie with HIV-positive protagonists.
Bill Sherwood's Parting Glances (1986) was one of the earliest films to depict a character living with AIDS during the AIDS crisis. Others followed: Longtime Companion (1989), Silverlake Life (1993), And the Band Played On (1994), Common Threads: Stories from the Quilt (1989), and the more recent How to Survive a Plague (2012). 
The Van Pelt Video Collection features a variety of narrative and documentary films about transgender, gender non-conforming, and genderqueer identity. Such titles include The Crying Game (1992), Transamerica (2005), Diagnosing Difference (2009), Laurence Anyways (2013), Madame Phung's Last Journey (2014), the short film House Not Home(2014), and feature films The Danish Girl (2015), Tangerine (2015), A Fantastic Woman (2018), and Coby (2018).
All of these films may resonate with students who have completed courses like Sex, Love, and Desire in Art Cinema, Queer Cinema in Theory, and Queer Negativity. Andrew W. Mellon Postdoctoral Teaching Fellow, Filippo Trentin, has taught these courses in recent semesters and the library's film collection makes every effort to acquire all assigned films and films related to themes discussed in courses. 
However, the library does not acquire films strictly with the goal of supporting instructors and courses with the Penn Libraries collection of LGBTQ+ Lives on Screen. We also aim to build a collection that captures subgenres of LGBTQ+ film and, as much as possible, representation in television serials and other programming; films that will inspire and educate members of the LGBTQ+ community on campus; and films that will educate society more broadly by eliciting important discussions. In the years to come, the library looks forward to collecting films that document queer life, especially international queer cinema from East and South Asia, Africa, and Latin America; documentaries about LGBTQ+ civil rights and life and homophobia in oppressive societies; historical television; films written and produced by LGBTQ+ persons; and independent short films.
The LGBTQ+ film collection exists as both physical media — available for loan throughout Penn Libraries — and as streaming film on Penn databases.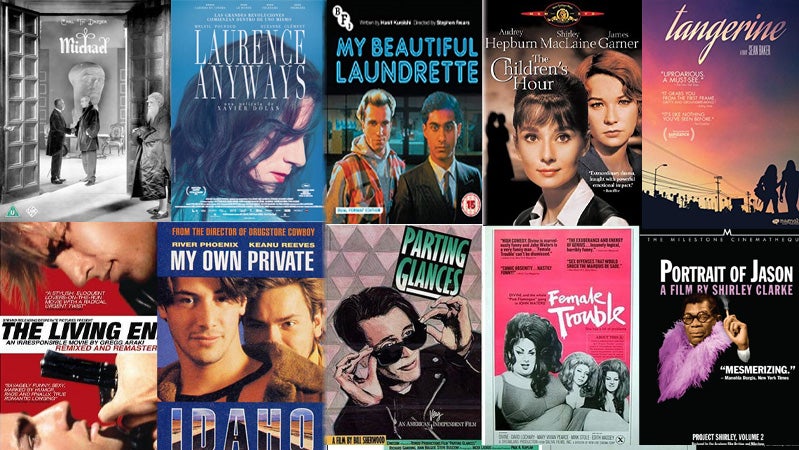 A wide range of films and media is ultimately a reflection of the large, active, diverse queer community on campus. Prior to the implementation of University policies to protect public health in light of the global outbreak of COVID-19, Penn was scheduled to celebrate QPenn, the University's annual weeklong series of events dedicated to LGBTQ+ culture. QPenn this year was to include a lecture about Queer Interventions in filmmaking, in addition to other events related to film and media culture, such as visit from Antoni Porowski, the food and wine expert from Queer Eye, the reality series re-booted in 2018.
While QPenn events are to be canceled or postponed, the Penn Libraries film collection remains available, both online and on-site, for Penn students, faculty, and staff.
---
Filmography
---
Other LGBTQ+ Films to Watch
---
References