Diversity in the Stacks: Literary Reflections on the Iran-Iraq War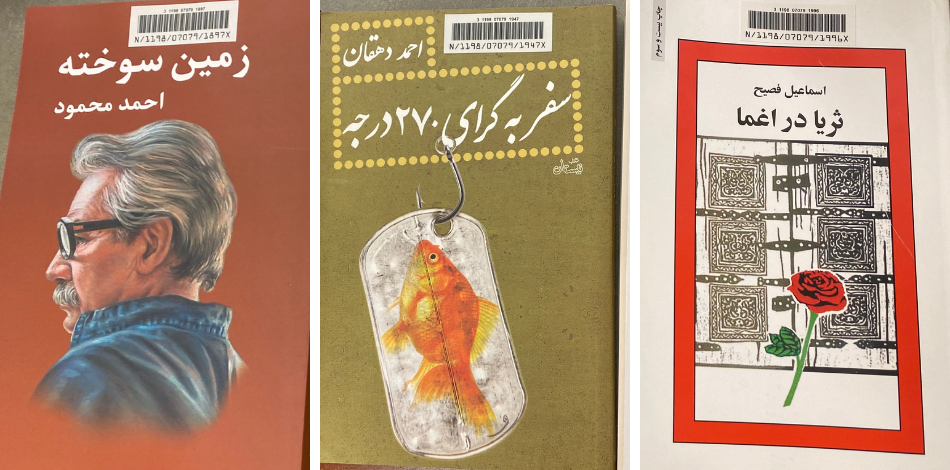 Diversity in the Stacks aims to build library collections that represent and reflect the University's diverse population.
The Iran-Iraq War--a brutal, protracted conflict lasting from 1980 to 1988--was devastating for both of the countries involved. This conflict has had a significant presence in a broad variety of cultural works created both during and after the war, some of which reached an international audience. As an American, I think my first awareness of this conflict was through the popular graphic novel series Persepolis by Marjane Satrapi, although I did not have much context for the events at the time.
Arts and cultural institutions in both countries were deployed to support wartime efforts, often evoking religious imagery and symbols to glorify the war and martyrdom. In Iran, the state-sponsored publishing house Intishārāt-i Sūrah-i Mihr has published a number of such works. In 1993, the government even established the Holy Defense Book Award (in Iran the conflict is often referred to as the "holy defense" or the "imposed war") to celebrate and support official narratives of the war. In the past 23 years, it has been offered 18 times. 
In contrast to such glorifications of war, a number of works have honed in on the grimmer realities of war that contest these state narratives. In "Stepping Back from the Front," Amir Moosavi discusses how novels published during the later war and post-war years diverged from and problematized official narratives of the war.  Fatemeh Shams has written about "official" and "unofficial" poetry that evokes similar themes.
As a bibliographer, I have noticed that Iranian publishers continue to publish many works on the Iran-Iraq War. The Penn Libraries' holdings include more Persian language books (from Iran) than Arabic books (mostly from Iraq); this emphasis could be for a few reasons, all of which have interesting implications for collection development. One reason could be that this topic occupies more space in the Iranian national imagination than in Iraq, which has experienced two wars since the Iran-Iraq War. Iran is also a larger country with a more robust publishing industry than Iraq--although not all Arabic works we have on the topic were published in Iraq. In addition, examining Iranian literature from the period, which immediately followed the Iranian Revolution of 1979, helps shed light on the Iran-Iraq War through the lens of state-building for Iran's new government.
As I have sought to expand the Penn Libraries' collection of materials about the Iran-Iraq War, I focused on works that challenged the official narrative. I found the edited volume Moments of Silence : Authenticity in the Cultural Expressions of the Iran-Iraq War, 1980-1988, to be extremely helpful. The book covers diverse topics that include the impact of the war on Kurds and veterans. It also places Iranian and Iraqi literatures in conversation with each other. Using this book as a guide allowed me to discover Iranian authors not represented in our collections, including some who wrote on topics other than the Iran-Iraq War.
Ahmad Mahmoud, a social-realist writer perhaps most famous for his work Hamsāyah'hā, or The Neighbors, is one such writer. A title that came to my attention was Mahmoud's Zamīn-i sūkhtah, or The Scorched Earth, which Moossavi describes as an early work that both diverges from the government narrative and contains a nationalist, anti-Iraqi narrative.
Esmail Fasih (or Ismail Fasih) is another author whose works I added to the Penn Libraries' collections. His writing career spanned some four decades and covered a number of political events in Iran. Two of his novels, Zimistan-i 62, and S̲urayā dar Ighmā, are cited by multiple authors in Moments of Silence as additional examples of war-era novels that problematize state narratives around the war. As we already had the English translation, Sorayya in a Coma, I was happy to add the original Persian to our stacks.
The Penn Libraries also holds the English translation of Ahmed Dehqan's (Ahmad Dihqan) debut novel, Safar bih garā-yi 270 darajah, or Journey to Heading 270 Degrees, though we do not have a copy in the original Persian. Dehqan, a veteran who has written multiple works on the war and won the state-sponsored Holy Defense Book Award, occupies an interesting position between official and critical narrators of the war. M. R. Ghanoonparvar writes that rather than sanitizing or glorifying certain aspects of war, Journey..."casts a sober and sobering look at the war in a tangible form and also at its effects and consequences for those who fought it." Among other works, Dehqan's collection of short stories, Man qātil-i pisaritān hastam (I Am Your Son's Killer), will also be added to the library. This volume received a number of literary awards and also shows darker aspects of the war. Other veterans whose works I purchased include Habib Ahmadzadeh and Mohammadreza Bayrami.
It is important to look beyond the two states of Iran and Iraq and consider how marginalized groups experienced the war, particularly the Kurds. Even prior to the war, the governments of Iran and Iraq tended to use Kurds as proxies, supporting the other country's Kurdish groups in order to destabilize that country. This dynamic was definitely present during the Iran-Iraq War. The bloody culmination of this practice and Saddam Hussein's Anfal Campaign was the Halabja Massacre, a genocidal chemical attack targeting civilians in Iraqi Kurdistan. Mardin Aminpour writes that Halabja became the "epicenter of later war narratives". One title that Penn Libraries holds in English is Black Wind from the Kurdish Hills by Hama Dostan, translated from Swedish. This novel traces the lives of three friends in Halabja who have little choice but to join the peshmerga forces (Kurdistan's military forces) against the Ba'ath state. The Halabja attack and subsequent displacements reverberated across Kurdish areas, and is present in film and art. Kurdish-Iranian filmmaker Bahman Ghobadi addresses the Anfal Campaign and chemical attack in his films, including Marooned in Iraq, one of my favorites. 
There are a number of ways I might expand Penn's holdings on this topic in the future. I would like to add more poetry, works from women authors, and works reflecting the experiences of other ethnic or regional communities. I would also like to fill gaps that might exist in the Iraqi literature on the topic. Finally, I would like to investigate the extent to which the winners of the Holy Defense Book Award are represented in our collection.
Want to explore more on this topic? Here's a tip for searching in the Penn Libraries' Franklin  catalog: a key-word search of "Iran-Iraq War" will bring up materials in all languages, although fiction often will not have subject headings. For more detailed instructions on searching for non-English materials, contact me!