On the Eve of His Retirement, Librarian Richard Griscom Reflects on His Career at Penn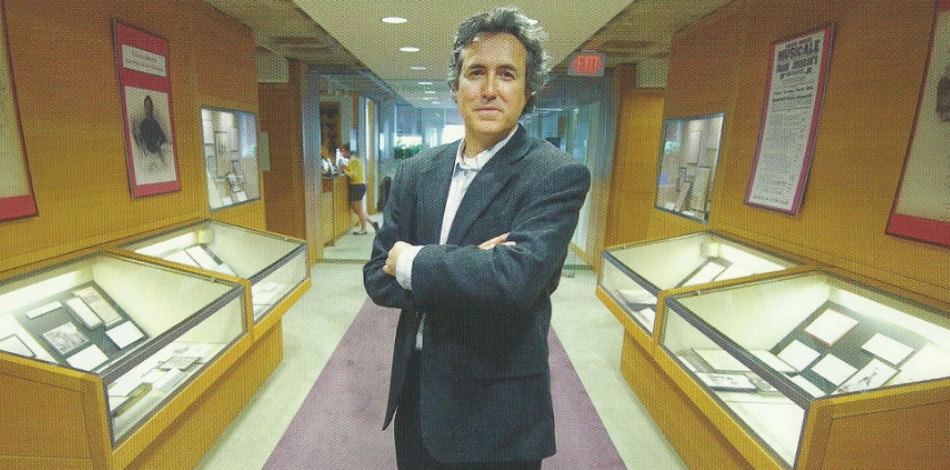 Does pop music have a place in an academic library? Music librarian Richard Griscom remembers a time not too long ago when not everyone thought it did. "I remember seeing eyebrows raise when [the Penn Libraries] acquired Britney Spears's '… Baby One More Time' and Slayer's 'Soundtrack to the Apocalypse,' which were requested by a music theory professor teaching a seminar on popular music." But in the last couple of decades, much has changed—these days, new jazz and popular music titles are regularly added to research-library collections.
Griscom has worn an extraordinary number of hats at Penn Libraries. In 2004, he came to Penn as Head of the Otto E. Albrecht Music Library, where he worked to expand the robust collection to serve new teaching needs—and that included adding those eyebrow-raising pop music titles. "For decades, the curriculum of the Music Department had focused on classical music and world music, which was typical of music departments across the country. Not long before I arrived, the Penn Music Department hired new faculty with expertise in jazz and popular-music studies, and I had to figure out how to sustain support for traditional areas of classical-music study while establishing strong collections in jazz and popular music in support of new areas of teaching and research "
He has also served as Associate University Librarian for Collections and Liaison Services and and as Associate University Librarian for Departmental Libraries. He says the most rewarding thing about working at the Libraries has remained the same, regardless of his role: "It's the imaginative, creative people who work well together and support each other who kept me at Penn for sixteen years."
Griscom will be retiring at the end of this month, so we sat down with him to reflect on music, libraries, and his years at Penn.
What initially led you to the field of music librarianship?
I majored in music in college because it was what I loved, and it didn't occur to me until I had nearly finished a master's degree in musicology that I might need to think about finding a job.  As luck would have it, I was at Indiana University, where the library school has a strong program in music librarianship—one of a few in the United States—and I saw some of my classmates enter that program and end up employed. So over the course of my third year at Indiana, I got library degree with a specialization in music cataloging and had a job offer from Northwestern University by the time I graduated. It was the perfect profession for me, since it offered steady employment while allowing me to spend much of my day working with music and musicians.
What are some of the most significant changes you've seen to librarianship since coming to Penn?
I'd have to say the most significant change has been the shift from physical formats (books, compact discs, DVDs) to digital formats (e-books, streaming music and video). It's a change that has been positive for the most part because we can make content available anytime and anywhere. Imagine if the pandemic had happened twenty or thirty years ago. Teaching and conducting research would have been very difficult if we had been limited to physical collections.
The move to digital has had a downside, though. There's a tendency today for users to think that anything they need to know can be found online. That's definitely not true. Especially in the humanities, books on the shelf are sometimes the only sources available to answer certain questions.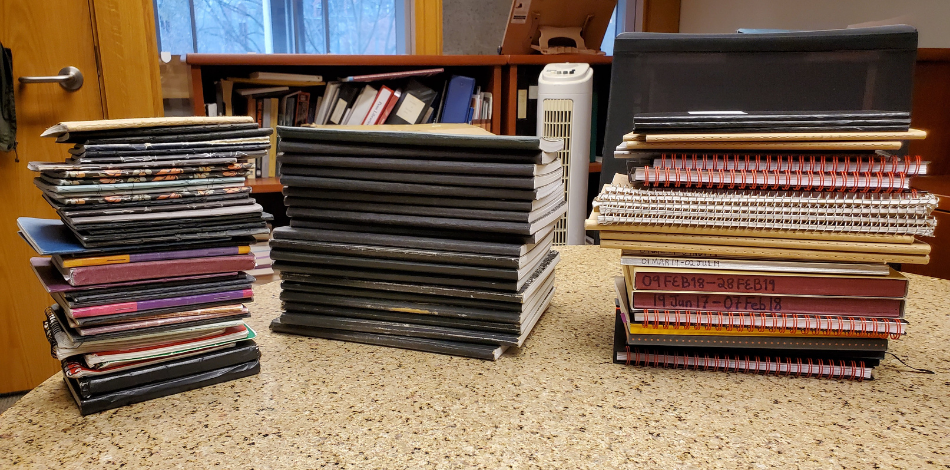 What are some ways that the work hasn't changed?
 Although the internet has made it possible for researchers at all levels to work independently, librarians continue to play an essential role in matching research needs to available resources. There's nothing like introducing a graduate student looking for orchestral pieces that use a siren to the book that can answer that question, The Thesaurus of Orchestra Devices. While the medium for that work might have changed—I'm thinking here of email and video conferencing—the skills needed to work with users hasn't, and I don't suspect they ever will.
Is there a piece of music that you wish more people were familiar with?
 I think some of the best music can't be fully appreciated until you hear it several times. If you can understand something the first time you hear it, why listen to it again? So, I'm inclined to suggest something that can be appreciated initially but might take a while to fully reveal itself.
I was reminded recently of how much I love Jean Sibelius's Symphony no. 7—his last symphony—when I saw a tweet from John Mark Ockerbloom about the piece in his wonderful series of tweets on creative works that will join the public domain in the US in 2021. It's a twenty-minute symphony in a single movement. The musical ideas are condensed and compressed, and it takes a while to unpack, but on repeated hearings you begin to realize that one bit here shows up again later in a very different context, and it all starts to make more sense. And the music can be appreciated on a surface level too. Each time I hear it, at certain points I'm reminded of the churning of the sea.
What are your plans for your retirement?
I've always looked forward to traveling in my retirement—I would enjoy spending a month in Italy—but that's on hold at least for another six months because of the pandemic. In the meantime, I look forward to reading and writing, studying Italian, and practicing the guitar and recorder. And I have to remind myself that there's a lot of deferred maintenance to be dealt with around the house.
What are your hopes for the future of Penn Libraries?
The Penn Libraries have been remarkably agile in adjusting services to meet the needs of the university community during the pandemic. Refining and extending those services will continue to be a big challenge during the next year. But it's also time to start thinking beyond the pandemic. What will be the new normal for Penn, and how can Penn Libraries best support it? The pandemic forced us to rethink some of our priorities and services, and we might decide that many of these changes should become part of the fabric of the new normal for the Libraries.
We wish Richard Griscom the best on his next adventure!
Want to learn more about music resources in the Penn Libraries? Check out our handy guide.