Featured Books and DVDs: Black History Month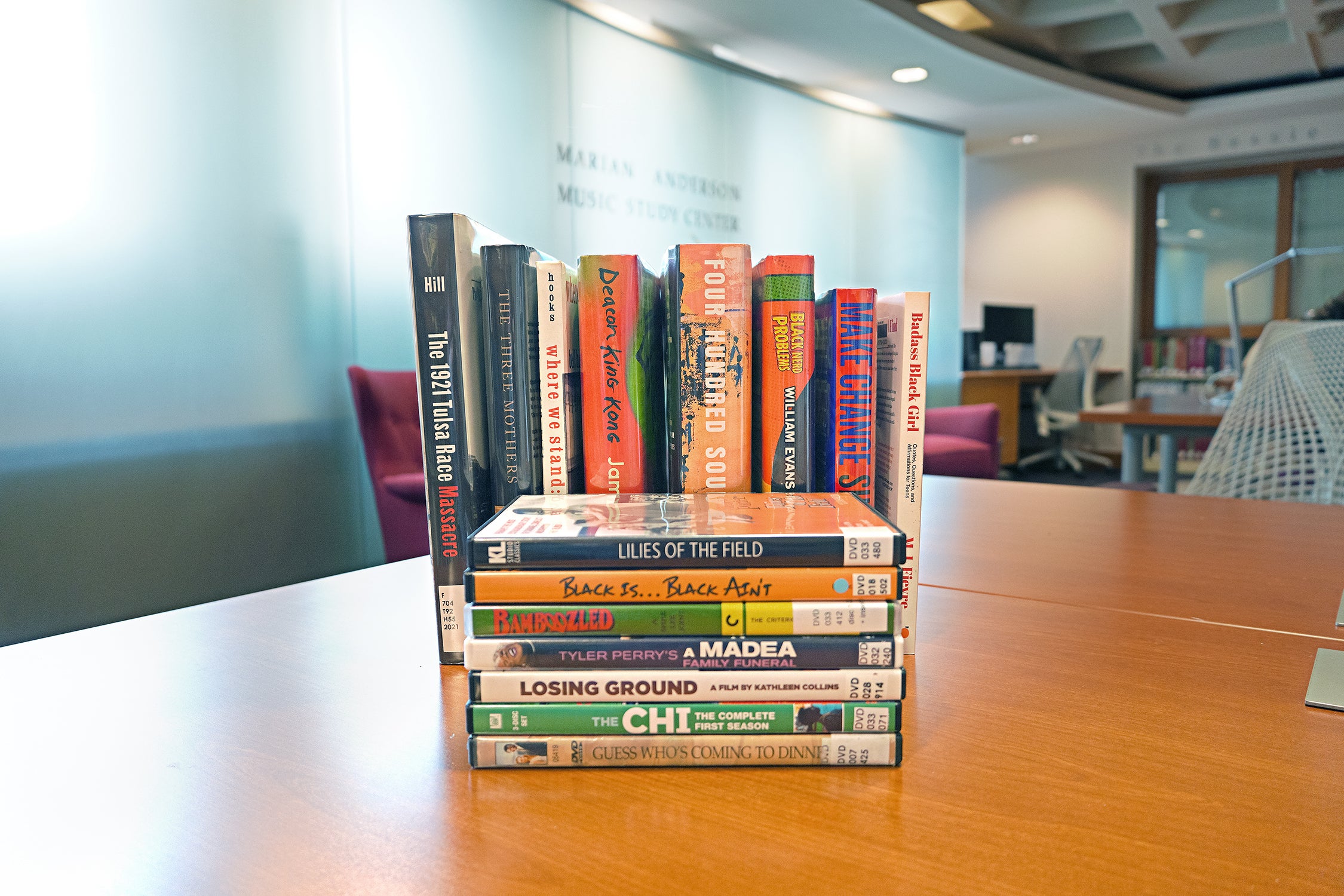 From the first three young Black men who enrolled at the University of Pennsylvania in 1879 (William Adger, Nathan Mossell, and James Brister), to Sadie Tanner Mossell Alexander's historic achievement in becoming one of the first three African American women to earn a PhD in the United States in 1921, to each year's winners of the Makuu senior awards, Black excellence holds a strong legacy at Penn that continues today. In honor of Black History Month, this month's display of featured books and DVDs offers options to explore stories from fantastic Black writers that are both new and old, historical and fictional. 
Among the featured DVDs for February, the display in Van Pelt includes a tribute to the trailblazing actor Sidney Poitier, who passed away on January 6 at age 94. The works of prominent Black feminist writer bell hooks, who also died recently, can also be found in this month's featured books and in the library catalog. 
Join us, in-person or virtually, for Douglass Day on February 14 to celebrate Black achievement in honor of Frederick Douglass. And don't forget, if you'd like to learn more, our subject matter experts are here to help! Contact them using one of the options under "Expert Help" in our Quick Start Guide. 
Books 
I'm Possible: A Story of Survival, a Tuba, and the Small Miracle of a Big Dream by Richard Antoine White 
Read about Richard Antoine White's inspirational journey from homelessness to professional orchestral tuba player and university professor in his newly-published memoir. He has been featured on NPR, the "Today" show, and in the documentary R.A.W. Tuba. Follow him on Twitter at @Rawtuba. 
Where We Stand: Class Matters  by bell hooks 
In this very personal work, bell hooks uses class as a prism through which to explore her journey from a working-class childhood in Kentucky to a more affluent adulthood. 
The Other Wes Moore: One Name, Two Fates by Wes Moore 
This is the story of two boys with the same name who pursue very different paths into adulthood. 
The Three Mothers: How the Mothers of Martin Luther King, Jr., Malcolm X, and James Baldwin Shaped a Nation by Anna Malaika Tubbs  
The author explores how the values and lessons espoused by these unique women helped shape three of America's most important Black leaders. 
Black Nerd Problems by William Evans and Omar Holmon  
A funny and insightful collection of essays on pop culture from the creators of the website Black Nerd Problems. 
DVDs 
In this short film, producer/writer/director Julie Dash examines racism and sexism in 1940s Hollywood as two Black women grapple with their racial identities in their struggle to break into the industry. 
The Chi: The Complete First Season 
Lena Waithe's series follows intersecting lives in a Black neighborhood in Chicago's South Side. 
 Boss: The Black Experience in Business 
An assemblage of historians, entrepreneurs, and business leaders explores the history of the barriers faced by Black leaders in America since Emancipation. 
A documentary from Ava DuVernay about a hip hop movement that emerged from a weekly open mic in Los Angeles.  
This film, part of the Sidney Poitier collection, shows two worlds: one where education, acceptance, and sensibility prevail; and one rife with prostitution, poverty, abuse, and illiteracy. This groundbreaking film is still as poignant today as it was when it was released in 1965.