Featured Books and Films: Staff Picks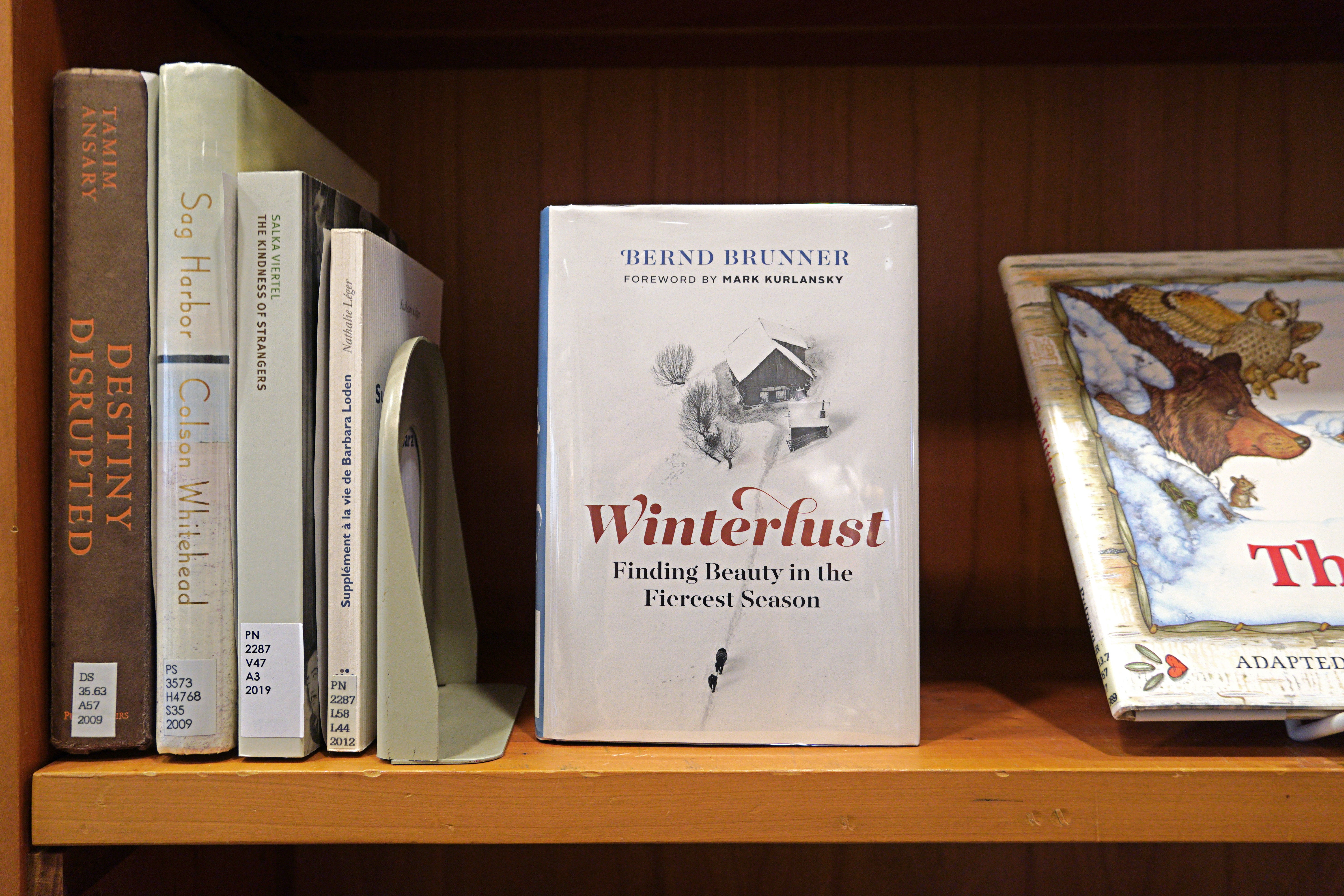 The Penn Libraries' Featured Books covered a variety of topics and themes this year, and many of the book lists were curated by experts in the subject matter or relevant campus and community groups. The December Featured Books and Films selections come at the recommendations of Libraries staff who personally enjoyed them, and this diverse list offers something for everyone. 
As the daylight shrinks and the weather gets colder, Library Assistant Megan Brown Olsen has a recommendation that will help you find the beauty in the season. For those who will spend time with family over the winter break, Library Assistant Susan Gavin-Leone has the perfect cozy book to read with children. And Rebecca Stuhr, Assistant University Librarian for Academic Engagement and Director of Arts and Culture Libraries, shares the heartwarming film she likes to watch on Christmas Eve (even though it's not a Christmas movie). 
Get to know just some of the 300+ staff who keep the Libraries running through their recommendations below! You can find these on the Featured Books and Films display on the first floor of the Van Pelt-Dietrich Library Center. 
Books
First, it's very interesting because it's world history and it looks at events and trends very broadly. Second, since it takes an Islamic perspective, it is thought-provoking about what difference a perspective makes. It's a fun read and very approachable, and I was intrigued by the way Ansary frames the project as something he saw missing when he was writing textbooks.
In Brett's delightful re-telling of an old Ukranian folktale, a young boy loses the mitten his grandmother knitted him and all manner of woodland animals crawl inside to keep warm. A perfect tale for a winter's day.
All About Love: New Visions by Bell Hooks
Selected by Steve Scaduto, Assistant Director of Learning Enrichment
The book can work as a companion piece to M. Scott Peck's The Road Less Traveled (which starts with a definition of love), especially given how hooks continues to examine love on the individual level and beyond the romantic. It is a workbook of sorts that explores community and has the reader examine where they fit in the conversation. In it hooks writes, "Individuals who choose to love can and do alter our lives in ways that honor the primacy of a love ethic. We do this by choosing to work with individuals we admire and respect; by committing to give our all to relationships; by embracing a global vision wherein we see our lives and our fate as intimately connected to those of everyone else on the planet. Commitment to a love ethic transforms our lives by offering us a different set of values to live by. In large and small ways, we make choices based on a belief that honesty, openness, and personal integrity need to be expressed in public and private decisions."
Stuck Rubber Baby by Howard Cruse
Selected by David Toccafondi, Media Lab Manager
I first read this novel shortly after graduating college in the mid-1990s. It's about a young gay man coming to terms with his sexuality in the American South during the 1960s as he becomes involved with the U.S. Civil Rights Movement. It's one of the earliest pieces of gay fiction I recall reading, and one of the first "serious" graphic novels I read. The fact that it is partly autobiographical (though fictionalized) contributes to the thoughtful ways Cruse addresses and integrates issues of racial injustice and homosexuality, in ways that still resonate today. Even though it was published 25 years before the murder of George Floyd, readers will notice echoes between these two volatile time periods in our history. It's also a great example of the power of the visual nature of comics to contribute to the emotional effect a story can have on the reader. The year I read it, it had such a big impact on me that I bought several copies and gave them to family and friends as gifts.
If you are one of the rare few who cannot wait for summer to end and snow to fall, then this is a book just for you… and me!
The Book Woman of Troublesome Creek by Kim Michele Richardson
Selected by Florrie Marks, Music Library Administrative Assistant
Kim Michele Richardson's novel tells the engaging story of Cussy Mary, a pack horse librarian who lives deep in the hill country of Kentucky during the 1930s, providing much-needed books, news, and other help to the local residents. One of the Blue People of Kentucky, she also faces many challenges, both personal and professional.
This is such an engaging and quite filmic book, full of vibrant characters navigating tangled relationships in dreamlike landscapes. The narrator is a swaggering but sensitive runaway who joins a group of feral trans women who avenge the murders of their friends. The story is told with humor and heart, and I read it compulsively.   
Films
The Station Agent
Selected by Rebecca Stuhr, Assistant University Librarian for Academic Engagement & Director of Arts and Culture Libraries
 
This is an excellent story with interesting quartet of characters, all of whom have specific needs that affect their friendships and how they are able to be there or not there for each other. Fantastic acting, nothing overdone. And one of the last lines is a great one about librarians. I like to watch it on Christmas Eve (but it isn't a "Christmas movie" — it takes place in the summer).
Avengers, Endgame
Selected by Aman Kaur, STEM (Community Health & Engineering) Librarian
While I watched most of the Marvel films at the cinema, I check out the Marvel films on DVD to rewatch movies ahead of major releases. It is awesome that the Penn Libraries has these popular films available for academic and leisure use.
The Shining
Selected by Patty Gilson, Library Assistant
This suspenseful masterpiece is one of my all-time favorite movies. This iconic Stanley Kubrick film was loosely based on Stephen King's modern gothic novel, but Kubrick really made the story his own. Grandiose, sweeping landscapes; opulent interiors from a bygone age; and a frisson of the supernatural captivate me every time. This film contains layer upon layer of mystery and fascination for me. It has inspired references across nearly every genre of media. It is truly one of the most complicated films I have ever seen, and every time I watch The Shining I find a new twist or hidden implication. For a deeper dive into the psyche of the film, I suggest you watch the documentary Room 237, also available at the Penn Libraries.
A black comedy about four high school teachers who decide to experiment with day drinking... what could go wrong? Mads Mikkelsen's dance scene is epic.
'Round Midnight
Selected by an anonymous staff member
Bertrand Tavernier's decision to cast actual jazz musicians in Round Midnight sets it apart from other films I've seen about jazz.  Dexter Gordon's lead performance as a veteran saxophonist struggling with personal issues has brought me back to the film again and again. It is inspired casting, and the film is so atmospheric, full of love for jazz and Paris even as it honestly depicts the struggles the characters face.  It's a gem of a movie, and the Herbie Hancock score sounds great, too.