Featured Books: Discovering Philadelphia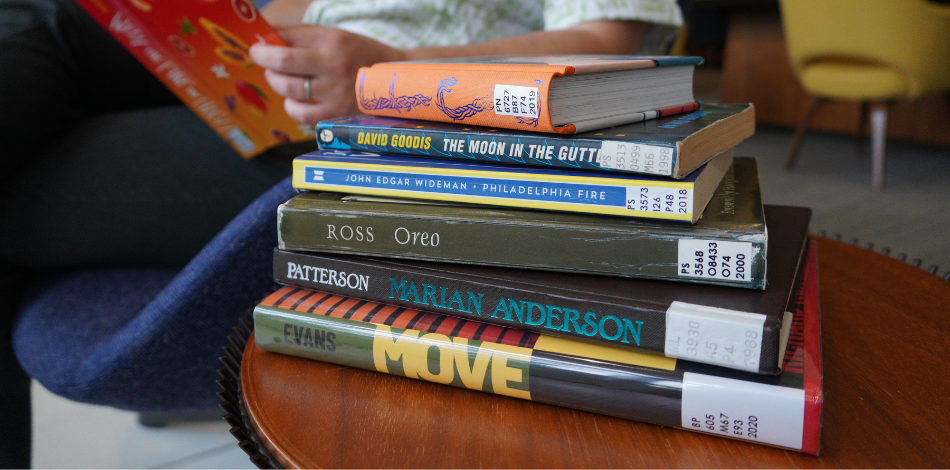 In 2019, the Penn Libraries Access Services department--the staff who check out materials in the Van Pelt-Dietrich Library Center, process holds and deliveries, and otherwise get materials into the hands of library patrons--decided to create a display that highlighted books they thought students, faculty, and staff would find interesting. Rotating monthly, the books had a common theme that allowed library staff to show off the breadth and diversity of what visitors could find on the shelves. 
Like so many other things, the display went away in March of 2020, though the list of monthly recommendations continued to have a home right here on the Penn Libraries blog. Since then, we've been pleased to share these reading, watching, and listening recommendations monthly, pointing readers towards poetry to read in times of turmoil, music to celebrate Pride Month, books and films about Black musicians, thoughtful memoirs from a variety of perspectives, and more.
But the Van Pelt-Dietrich Library Center is open again, and that means the Featured Books display is back! "One of the goals of Featured Books is to create a space for engagement with the print collection at Van Pelt. So it has been wonderful to see people browsing the display once again!" says Eileen Kelly, head of collections management. While we will continue to share these monthly recommendations online, we encourage everyone to visit in person on the first floor of Van Pelt and take one of the books home with you. For even more thematic recommendations, you can also check out the Featured DVDs display as well. 
To help get us all in the back-to-school spirit, this month's Featured Books are all about Philadelphia. Whether you are a new student, new to Philadelphia, or just want to brush up on the literary history and culture of the City of Brotherly Love, we hope these recommendations from Penn Libraries' staff will help you feel more at home. Visit the Van Pelt-Dietrich Library Center to check out these books and more.
Bendiner's Philadelphia by Alfred Bendiner
Selected by Leslie Vallhonrat, Web Developer/Designer 
In 1938, the Philadelphia Evening Bulletin hired Bendiner as a music critic. His reviews were unique: each one was illustrated with a caricature taken during the performance. Bendiner's famous flowing line rendered more than musical personalities. You'll also see a wealth of architecture in the book. A graduate of Penn's School of Architecture, Bendiner worked for Paul Philippe Cret (namesake of a chair at the Weitzman School of Design) before starting his own firm. 

William Still : The Underground Railroad and the angel at Philadelphia by William C. Kashatus
Selected by J.M. Duffin; Reflections by E. Kelly, Head of Collections Management
This year marks the bicentennial of the birth of William Still, an abolitionist who served a key role in the Underground Railroad. His row house on a quiet residential side street near 10th and Bainbridge, where he and his wife hid escaped slaves, was added to Philadelphia's Register of Historic Places in 2018. As a native Philadelphian, I have always been amazed at such juxtapositions of extraordinary history with everyday modern life. 

Crying in H Mart : a memoir by Michelle Zauner
Selected by Megan Brown Olsen, Library Clerk
From Michelle Zauner, the musician known as Japanese Breakfast, comes this heart-breaking, mouth-watering memoir of a complicated mother-daughter relationship and the meals that defined their time together. 

Mermaids, monasteries, Cherokees, and Custer : the stories behind Philadelphia street names by Robert I. Alotta
Selected by anonymous staff
Growing up, I would ask my parents to drive down Mermaid Lane just because the name seemed from another time and world. You can travel these streets but never think about their names. 

Such a Fun Age by Kiley Reid
Selected by Aman Kaur, Community Health and Engineering Librarian
Philadelphia resident Kiley Reid's debut novel focuses on the events following a young Black babysitter who is wrongly accused of kidnapping a white child. The book's themes around racial profiling and the white savior trope remain highly relevant across the country. This book was one of the Penn Professional Staff Assembly Book Club's Spring 2021 selections.  

A Glorious Enterprise : the Academy of Natural Sciences of Philadelphia and the Making of American Science by Robert McCracken Peck and Patricia Tyson Stroud ; photographs by Rosamond Purcell
Selected by Karen Orbon Lane, Library Assistant
I worked with the author at the library at the Academy of Natural Sciences of Drexel University here in Philadelphia. Mr. Peck is a great authority on the history of the Academy and the stories of an impressive list of members, such as Thomas Jefferson, John James Audubon, Robert Peary, and Ernest Hemingway.

Philadelphia Fire by John Edgar Wideman
Selected by Joe Kishman, Library Assistant
This novel fictionalizes the story of the organization MOVE and the bombing of their house on Osage Avenue by the City of Philadelphia in 1985. Coming to Philadelphia from Wyoming in 1987, I had heard very little about this horrific incident, which ended up destroying nearly every home on the 6200 block of Osage. Wideman is a PA native (from Pittsburgh), a Penn alum, and a former Penn professor. This is a difficult book. There's nothing uplifting about it at all. There are no heroes. And yet I can't personally think of any novel more relevant to Philadelphia. 

Salut! : France meets Philadelphia : the French presence in Philadelphia's history, culture, and art by Lynn Miller and Therese Dolan
Selected by David S. Azzolina, Collections Development and Academic Engagement Librarian
This beautifully illustrated book documents the French presence in Philadelphia. Their contribution to the city is often overlooked. 

Loving day by Mat Johnson
Selected by Rebecca Stuhr, Assistant University Librarian for Academic Engagement and Director of Arts and Culture Libraries
This novel came out a few years ago and it takes place in Philly. It features an old house, ghosts, and dealing with one's past and present. Amaz is featured -- an Ethiopian restaurant that in pre-pandemic days I used to go to on occasion. Located on 20th and Walnut, it has a nice atmosphere and good food. I shared the book and the passage with the owner/manager there.  

Foreign bodies : poems by Kimiko Hahn
Selected by E. Kelly, Head of Collections Management
The prosaic becomes lyrical in this collection of poems inspired by the Mutter Museum's permanent exhibit of everyday objects extracted from patients' airways by Dr. Chevalier Jackson.  

One woman in a hundred : Edna Phillips and the Philadelphia Orchestra by Mary Sue Welsh
Selected by Florrie Marks, Music Library Administrative Assistant
Edna Phillips was truly a pioneer in the Philadelphia Orchestra. She was the Orchestra's first female member and the first woman to hold a principal position in a major U.S. orchestra. This book chronicles her career as a performer and teacher, including her considerable contributions to harp repertoire.  

 America's longest run : a history of the Walnut Street Theatre by Andrew Davis
Selected by Florrie Marks, Music Library Administrative Assistant
Philadelphia's own Walnut Street Theatre, founded in 1809, is the longest continuously run professional theatre company in the United States. From staging professional performances to offering acting courses and camps, WST has been a vital part of Philadelphia's vibrant arts community for over two hundred years.