Featured Books Display: Philadelphia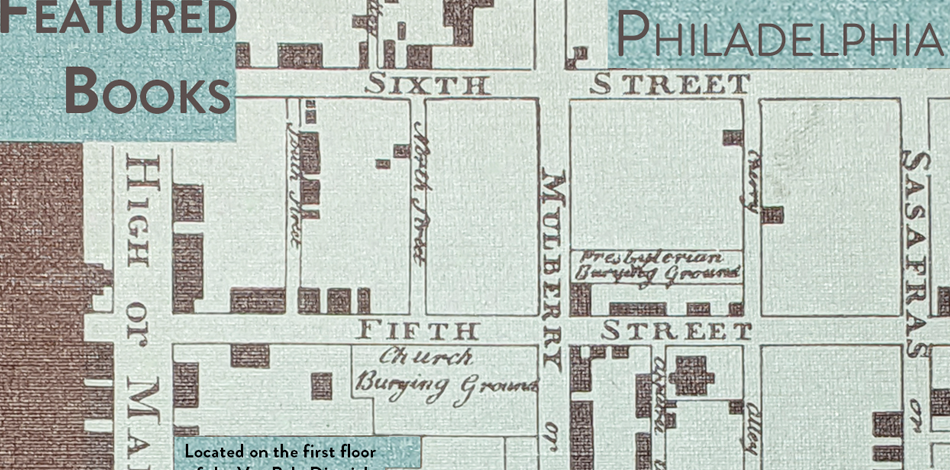 The latest Featured Books Display in the Van Pelt-Dietrich Library Center spotlights the City of Brotherly Love. "We have new students who've never been to Philadelphia and returning students who haven't ventured off campus," explains Eileen Kelly, Head of Collection Management. "The holdings we've selected are meant to encourage exploration and appreciation."
Toward the end of exploration, the display includes Philadelphia: Finding the Hidden City (2017) — which uncovers "secret places in familiar locations" throughout the city — as well as several neighborhood- and site-specific volumes. From The Forgotten Bottom Remembered (2003) to Chinatown Lives (2004) to Rocky Stories: Tales of Love, Hope, and Happiness at America's Most Famous Steps (2006) (which boasts a foreword by Sylvester Stallone), the display entices students to journey outside the bounds of University City. 
"Crossing the Schuylkill to get to the rest of the city can be a little forbidding for newcomers," Kelly admits. "We're hoping to empower students to cross the river."
As for appreciation, the exhibit comprises a broad cross-section of the city's history. "Our goal was to capture the myriad experiences of being a Philadelphian; we wanted the display to be representational," says Kelly. 200 Years of Latino History in Philadelphia (2012) photographically explores the latino-Philadelphian experience, while City of Sisterly and Brotherly Loves: Lesbian and Gay Philadelphia, 1945-1972 (2004) pays tribute to hometown LGBT-rights trailblazers who have historically been overlooked in light of activists from San Francisco and New York City. The display also includes two volumes specifically about Penn's history: Black Students in the Ivory Tower (2002) and Penn in Ink (2006).
Selected holdings highlight local luminaries, from feminist art icon Alice Neel (1991) to architect Edmund Bacon (2009), the "Father of Modern Philadelphia," to world-renowned opera singer and civil rights heroine Marian Anderson (2002). "We also wanted to celebrate Philadelphia's writers," says Kelly. Hometown titles include Edgar Huntly or, Memoirs of a Sleep-Walker (1799; 2018) by Charles Brockden Brown (whom, Kelly notes, is "considered one of the first truly American writers"); David Goodis's noir classic The Blonde on the Street Corner (1954; 1997); and the historical novel Lazaretto (2016) by Diane McKinney-Whetstone, a professor in Penn's Department of English.
Both Kelly and Featured Books co-curator, library clerk Megan Brown, agree that the most peculiar volume in this month's display is Antonio Turza's La Strega: The Witch of South Philadelphia (1973). (One online review of the book cryptically states, "This ham has been smoked for 6 hours and is a delicious feast in a honey glazed binding that will give you satisfaction from start to mid chapter 4, spoils in the end.") Other offbeat holdings include The Wawa Way: How a Funny Name & 6 Core Values Revolutionized Convenience (2014) and Questlove's conceptual cookbook, Somethingtofoodabout: Exploring Creativity with Innovative Chefs (2016).
As with every Featured Books Display, the signage reflects Brown's graphic design background. The image advertising this month's exhibit is an early map of Philadelphia that was cribbed from an edition of Benjamin Franklin's autobiography and then run through a filter "to make it look even grittier," Brown explains. Those familiar with the city might note that some of the street names appear to be inaccurate; in fact, these "odonymic" discrepancies are a matter of Philly's street names having changed over time. 
Featured Books: Philadelphia will be available for patron perusal for six weeks. The next display, premiering in early October, will be Science Fiction-themed.