Featured Books Display: Pride Month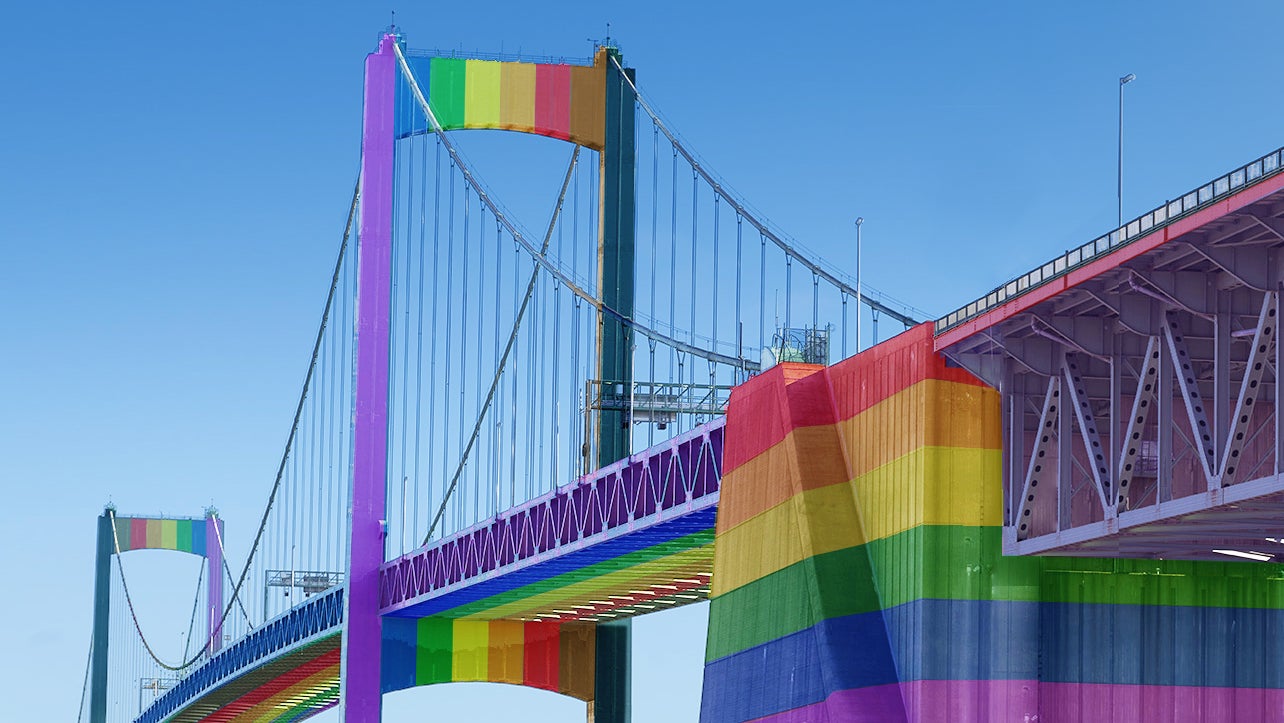 In the early morning hours of June 28, 1969, nine New York City police officers raided the Stonewall Inn, a gay bar in Lower Manhattan. The operation misfired, however, and the consequent protests — now known as the Stonewall riots — turned out to be the climacteric for LGBT rights in the United States.
Fifty years later, June is now nationally commemorated as LGBT Pride Month. To celebrate, the Stacks department at the Van Pelt-Dietrich Library Center has coordinated with staff at the Penn LGBT Center to curate a Pride-themed Featured Books Display. "The Library houses an incredible wealth of LGBTQIA materials," says Eileen Kelly, Head of Collection Management. Kelly and her regular co-curator, Megan Brown, selected titles from across the Library's collections in order to represent, in Kelly's words, "an array of voices, an array of experiences."
To that end, this is the first Featured Books exhibit to include foreign-language volumes. "Aimez-vous le queer?" (2005) is a collection of essays examining representations of homosexuality in twentieth-century French literature. "El Violeta" (2018) is a graphic novel about the persecution of homosexuals in Francoist Spain. The exhibit also includes a marked diversity of perspectives, from "Transfaith: A Transgender Pastoral Resource" (2018) to "Letters to One: Gay and Lesbian Voices from the 1950s and 1960s" (2012) to "Q & A: Queer in Asian America" (1998). (The latter selection was written by Penn's own David L. Eng, Richard L. Fisher Professor of English as well as Graduate Chair of the English Department.)
"We also chose works which speak to the fact that the fight for LGBT rights is ongoing," says Kelly. Alongside such foundational texts as James Baldwin's "Giovanni's Room" (2016; originally published 1956) and Judith Butler's "Gender Trouble" (1990) are a great number of contemporary classics: Just Torres's debut bildungsroman, "We the Animals" (2011); Alison Bechdel's graphic novel, "Fun Home" (2006); Kate Bornstein's updated "My New Gender Workbook" (2013); and a benchmark compendium of legal scholarship, "Sexual Orientation, Gender Identities, and the Law" (2018).
The installation will run through the end of the month and, as with all Featured Books exhibits, Stacks staff will replenish the display as titles are checked out. Read more about Pride Month at the Library of Congress website here (and check out Whitman at 200's initiative to paint the poet's eponymous bridge the colors of the Philly Pride flag here).