Featured Books: Hispanic Heritage Month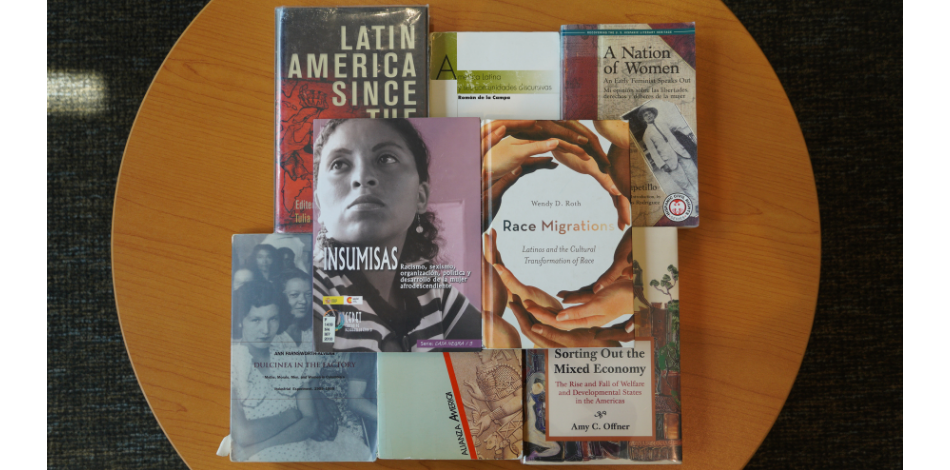 On September 15, 1821, five Latin American countries declared their independence: Costa Rica, El Salvador, Guatemala, Honduras, and Nicaragua. Almost 150 years later, the United States established Hispanic Heritage Week, choosing September 15 as the starting point to commemorate those events. Hispanic Heritage Week was expanded to Hispanic Heritage Month in 1988 and today runs from September 15 to October 15.
When Hispanic Heritage Week was first instituted, activists across the United States were lobbying the government to adopt a term that united people from across Latin America. Both "Hispanic" and "Latino" had gone in and out of use since the 19th century, and in the 1960s and 1970s, activists were divided over which term they preferred. Thanks in part to the efforts of Grace Flores-Hughes, an assistant in what was then called the Department of Health, Education and Welfare, the U.S. government settled on the word "Hispanic," and it was added to the census as a category in 1980. But the discussion didn't end there. "After the 1980s, you see this kind of tug of war between Hispanic and Latino," observes sociologist Michael Rodríguez-Muñíz. "But a decade before, people were using Latin, or Spanish-speaking, or Spanish descent. Those kind of fell out of favor after Hispanic and then, Latino came to the fore."
Those who advocate for Latino/Latina (or the gender-neutral Latinx) see the terms as more inclusive (they encompass people from Latin American countries like Brazil, where Spanish is not the main language) and more specific (they do not include countries outside of Latin America where Spanish is spoken, like Spain or Equatorial Guinea.) That said, according to the Pew Research Center, about 50% of people who identify as Hispanic or Latino do not prefer one term over the other. Not sure which term someone prefers? It's always good to ask!
Put together by Penn's Center for Latin American and Latinx Studies, this month's Featured Books list includes a variety of nonfiction titles that explore additional stories of activism and community-building, as well as other aspects of Latin American history, politics, and art. 
You can find even more reading recommendations when you visit the Featured Books display in the Van Pelt-Dietrich Library Center.
Print Books
​​

Latin America Since the Left Turn

by Tulia Falleti and Emilio Parrado




This book contextualizes the election of left-wing governments in Latin America and compares them to neoliberal governments in the region, analyzing political economies, democracy, political identity, citizenship, and new forms of civic participation. It provides a particularly important perspective on the effects of neoliberal policies and anti neoliberal agendas in the region, explaining the levels of "success" of the economies in Latin America.

 

Decentralization and Subnational Politics in Latin America

by Tulia Falleti




With a particular focus on case studies of Argentina, Brazil, Colombia and Mexico,

Decentralization and Subnational Politics in Latin America

explains the different outcomes of post-developmental decentralization reforms in Latin America and theorizes how these differences come to be.

 

Dulcinea in the Factory: Myths, Morals, Men, and Women in Colombia's Industrial Experiment

by Ann Farsnworth-Alvear




This case study of Medellin's workforce explores the relationship between industrialization and strict social and gender norms. It provides key insights into the effect that the constructs like "virgin" and "nonvirgin" women and definitions of "proper" and "improper" behavior for men and women has had on an industrializing society. 

 

Sorting Out the Mixed Economy: the Rise and Fall of Welfare and Developmental States in the Americas

by Amy C. Offner




Offner recounts the story of U.S. involvement in Colombia after 1945, from the implementation of New Deal and Great Society policies to the birth of neoliberalism. This book is particularly key to understanding how U.S involvement in foreign affairs can have unforeseen and undesirable consequences both in America and abroad. 

 

The Spectre of Race: How Discrimination Haunts Western Democracy

by Michael Hanchard




The Spectre of Race

argues that xenophobia and racial rhetoric rest at the center of Western democracy in order to explain how democracy creates political difference and inequality. This book is key in understanding the role that identity, especially race, plays in creating one's  political identity and consequently determining political status and influence. 

 

The Picaresque and the Writing Life in Mexico

by Jorge Tellez




Tellez explores the use of the picaresque genre in Mexican literature, examining the ambiguous power relationship between tropes and the authors who employ them. This book is useful for contemplating the relationship between narratives and individuals and understanding how the picaresque reflects the role of literature in Mexican society.

 
E-books
Lives in Limbo: Undocumented and Coming of Age in America

by Roberto G. Gonzalez




Providing key insights into the lives of undocumented individuals, this book tells the story of how the U.S immigration system has failed 150 undocumented young adults, shaping their identities and limiting their opportunities. It helps readers understand why some people choose to take the uncertain journey to the U.S. and the struggles that undocumented people face on the road to a better life.

 

 

Vital Decomposition: Soil Practitioners and Life Politics

by Kristina Lyons




An ethnography of human-soil relations in Colombia, this book examines the practices and philosophies of rural farmers who value sustainable agriculture in the Amazon, drawing attention to their success in the face of the soil poisoning that often occurs in the process of growth-oriented development. 

 

Another Aesthetics is Possible: Arts of Rebellion in the Fourth World War

by Jennifer Ponce de Leon




Another Aesthetics is Possible

shows how Argentinean, Mexican and American artists use arts as a means to engage in social activism. Exploring topics like leftist movements, uprisings against neoliberal capitalism, and violence, this book highlights art as a medium of social revolution and political empowerment in a neoliberal society. 

 

Capital Fictions: The Literature of Latin America's Export Age

by Ericka Beckman




This book explores literature as a tool of the political economy and provides key insight into the evolving relationship between culture and economics in the face of Westernization and globalization. 

 

Rise Up! Activism as Education

, edited by Amalia Dache




Amalia Dache is the lead editor on this volume of essays that explores how racial justice activism can serve as a powerful model of education for students and activists to effectively resist oppressive structures.