Musical Instruments on Loan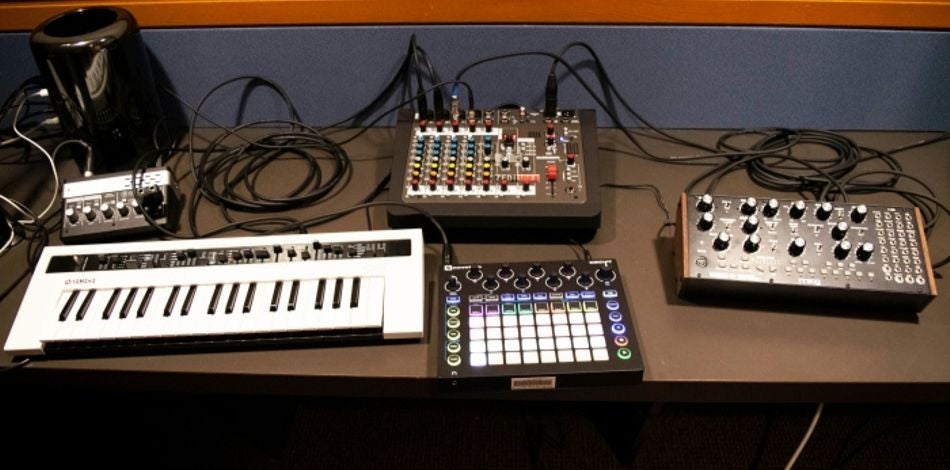 Penn's Albrecht Music Library houses a growing collection of loanable electronic musical instruments. The holdings include high-end synthesizers (a Novation Circuit), mixers (an Allen & Heath Zedi10FX), and a laptop preloaded with recording software — though the most mesmerizing apparatus currently on offer is arguably the Moog Etherwave Plus theremin.
Léon Theremin accidentally invented his eponymous instrument while working on the detection of electrical oscillations at the Physical Technical Institute in Petrograd in the 1920s. He originally called it the "etherphone" due to the fact that the thereminist never makes physical contact with the instrument — and also, one imagines, due to its ethereal whining sound. The theremin's frequency is controlled with one hand and its volume with the other. (Click here to see Clara Rockmore, the first internationally-renowned thereminist, demonstrate the technique by performing Camille Saint-Saën's Le cygne on her friend's invention.)
This will be the second year that the Music Library has lent instruments, which students can borrow for three days at a time. Among other projects, one student used the preloaded laptop in conjunction with an orchestra; another came in looking for a guitar looping pedal and wound up instead experimenting with various of the collection's holdings; another used the Music Library's Ableton Push 2 to advance her recording projects. 
Instrument collections are a growing trend in libraries: to wit, the Brooklyn Public Library's collection of loanable instruments and the Carnegie Library of Pittsburgh's Musical Instrument Playground. Philadelphia's own Free Library has a catalog of loanable instruments, including a steel drum, a mandolin, a dulcimer-banjo hybrid, a kalimba, ukuleles, violins, bongos, and various guitars. "Moving forward, I would love to see Penn offer acoustic instruments as well," says Library Specialist Eric Krewson, who curates the Music Library's instrument collection.
What's driving this trend? "In recent years, libraries have begun to reimagine themselves as makerspaces," explains Liza Vick, Head of the Music Library and Krewson's co-curator. "So that's created a need for both instrument collections and modular spaces that enable the creation of music."
Krewson adds: "There was probably always a need for library collections like these, but that need remained a blind spot. Now that libraries are thinking from the user's perspective, they've recognized the gap and are working to fill it."
Krewson's background serves him well in this endeavor. He earned his bachelor's degree in Music Industry and went on to his master's degree in Musicology. He's done sound design for commercials and film and worked for NPR Music. And he's a singer/songwriter with The Chairman Dances, a local indie band that regularly tours and records.
"When I'm looking for acquisitions, I'm looking to serve as many patrons as possible," says Krewson, who keeps an eye toward instruments that he's seen used in multiple contexts by different musicians. The collection is also meant to be accessible to novice and master musicians alike. 
Take, for example, the Yamaha CS Mobile Mini Keyboard, which Krewson describes as "intuitive." Users simply pick the wave shape (sine or sawtooth, the latter more piercing) and then modulate it, altering its frequency and adjusting its fade and delay. (Krewson notes that it's a CS being played on Springsteen's classic track, Born in the USA.) 
On the other end of the spectrum is the Mother-32 Eurorack Analog Synthesizer and Step Sequencer "You could spend years – and people do – making new and different sounds with this one instrument," says Krewson. "You can rewire the synthesizer's signal path, which opens the door to an incredible number of sonic possibilities."
Novices, take heart: if even the Yamaha sounds overwhelming, the Music Library will hold a workshop sometime this Fall for students interested in learning how to use all of these instruments. Stay tuned into events on the Music Library's workshop page.