Patricia Guardiola Named Director of the Fisher Fine Arts Library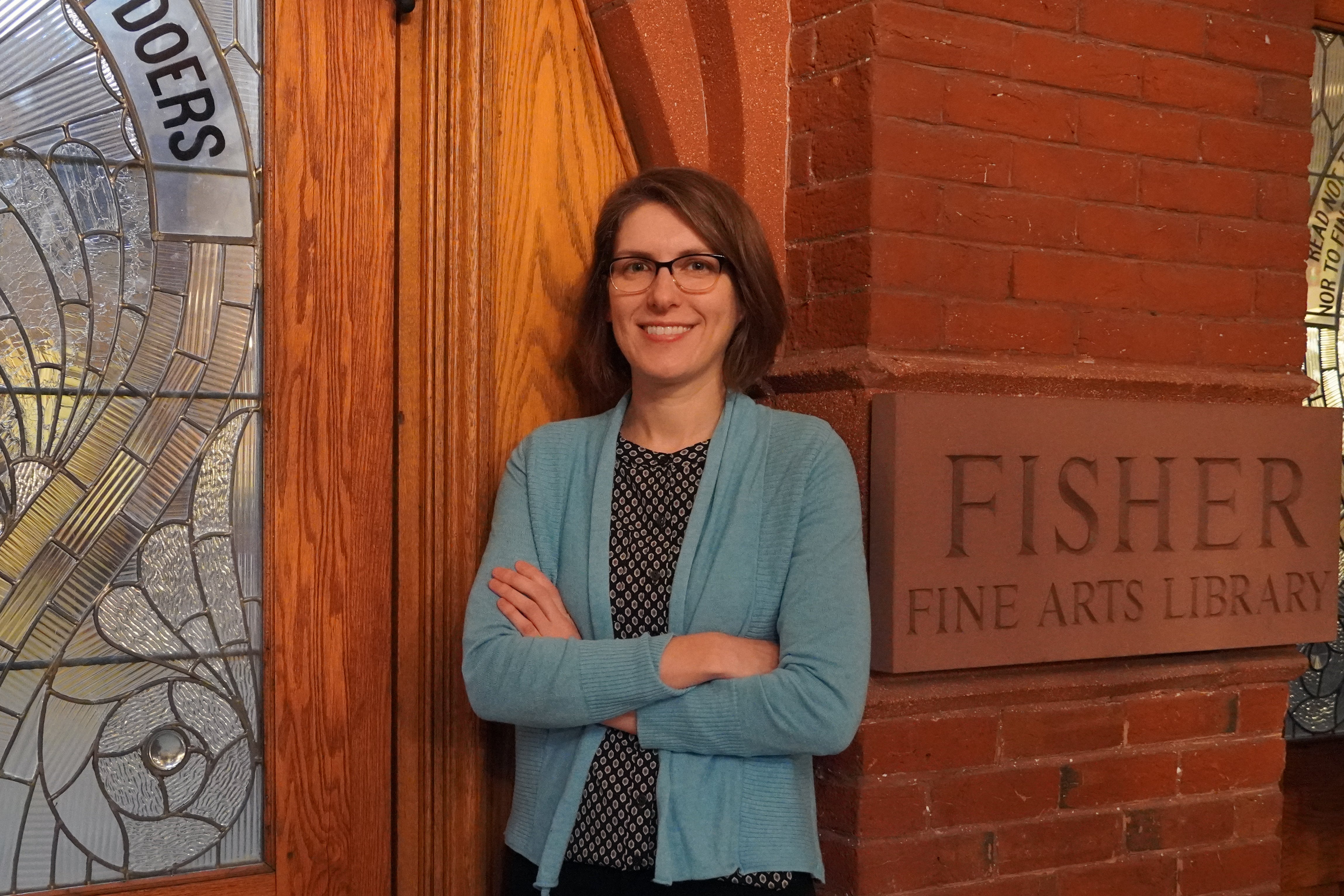 The Penn Libraries is pleased to announce that Patricia Guardiola has been named the new Director of the Fisher Fine Arts Library. Guardiola joined the Penn Libraries in 2015 as Assistant Director of the Fisher library. Before coming to Penn, she was a Kress Fellow in Art Librarianship and then Reference and Instruction Librarian in the Haas Family Arts Library at Yale University.
"In her time with the Penn Libraries, Patty has distinguished herself in reference and instruction services and operations management," says Constantia Constantinou, H. Carton Rogers III Vice Provost and Director of Libraries. "We are excited for the Fisher Fine Arts Library to continue to grow and thrive, under her leadership, as an unparalleled resource for teaching and research in the fine arts and architecture."
Guardiola's extensive experience spans the library and fine arts fields; her professional background includes research and instruction services, collection development, cataloging, teaching, and curation. Her career in libraries began with a role at the Louisville Free Public Library. Guardiola earned a master of science degree in library science from the University of Kentucky School of Information Science and a master of arts in art history from the University of Louisville Hite Art Institute. She also holds a bachelor's degree in communication from Bellarmine University. Guardiola is active in the Visual Resources Association and the Art Libraries Society of North America.
In her new role, Guardiola will be responsible for planning and oversight of the services, facilities, and collections of the Fisher Fine Arts Library, which serves the Weitzman School of Design and the SAS Department of the History of Art. She will also be responsible for the Materials Library and the Common Press, a collaborative program funded by the Penn Libraries, the Weitzman School of Design, and Kelly Writers House.
"We Philadelphians are fortunate to be immersed in such a thriving arts and design focused city," says Guardiola. "It is my goal for Fisher — through our services, collections, and collaborations — that we embrace and reflect the many voices of our community and its global affiliates, and continue to be a symbol for knowledge and history."
Guardiola succeeds Hannah Bennett, who served as the director of the Fisher Fine Arts Library and Penn Museum Library from 2015 to 2019.
The Fisher Fine Arts Library supports study, teaching, and research in contemporary and historical aspects of art, architecture, city and regional planning, historic preservation, landscape architecture, studio art, and urban design. Text and image collections, in analog and digital form, have a global reach and concentrate on the arts of the Western experience, Islam, South Asia and East Asia, from prehistory to the present. Its digital and print resources are designed to meet the needs of students and faculty of the departments, schools, and programs of the University of Pennsylvania.