The Penn Libraries Stands Against Racism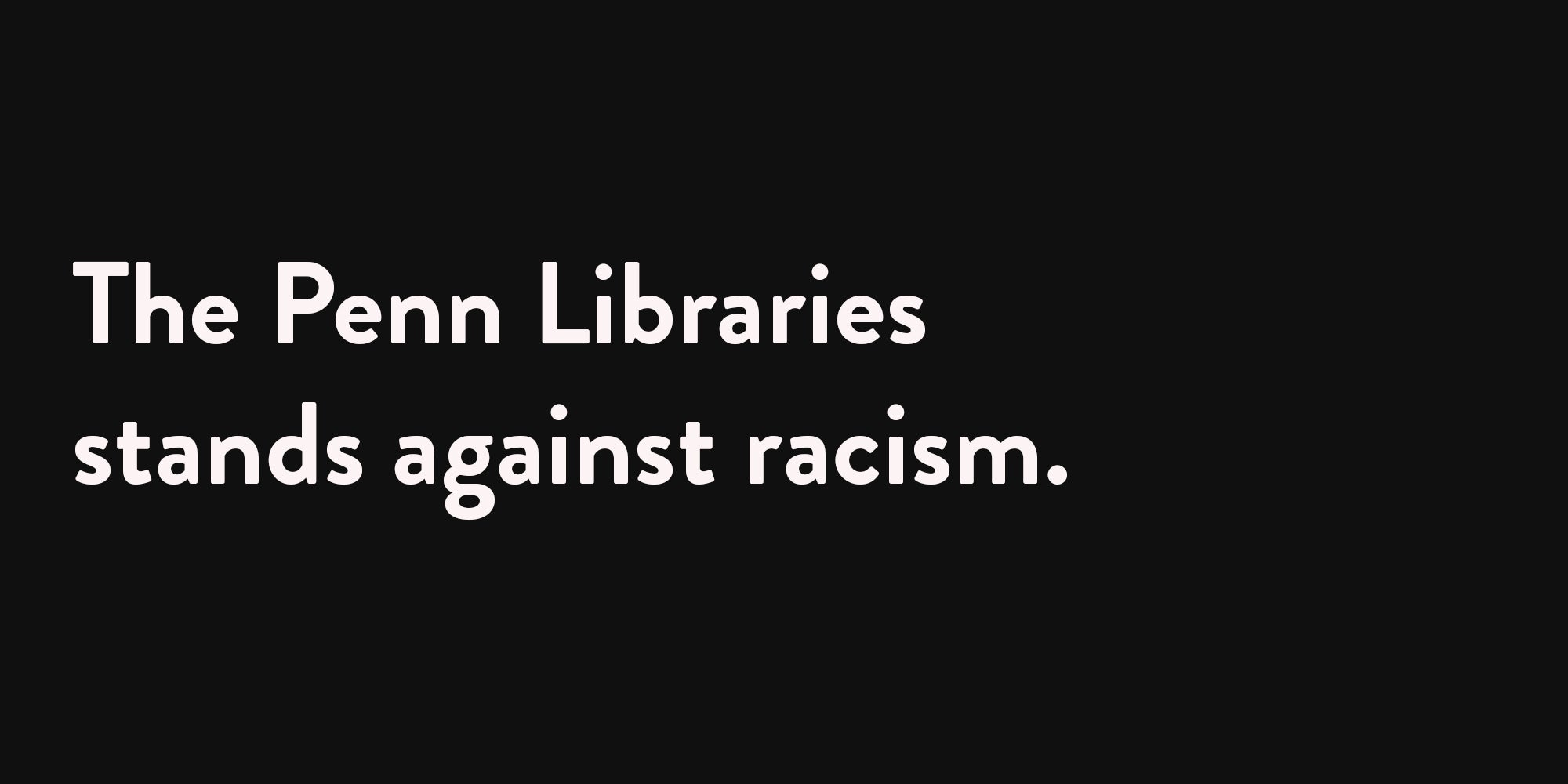 George Floyd. Breonna Taylor. Ahmaud Arbery. Their deaths are evidence of the hatred, ignorance, and inequities that have blighted our society for the last four centuries. Our nation mourns their lives. We grieve the complacency and the systemic racism to blame for their untimely deaths, as well as the deaths of so many other Black Americans. And we resolve to contribute to ensuring a just future for communities of color.  
This pivotal moment calls for an inventory of institutional priorities and individual commitments. In that spirit, the Penn Libraries staff convened earlier this week to begin discussions about what we can do to advance social justice on campus, in our neighborhoods, and across our nation. What can we contribute to local and national discussions about dismantling systemic inequities in our society? How can we use our collective strengths, skills, and resources to truly make a difference?
Our meeting, the first of what will be many on this subject, resulted in several resolutions. The Penn Libraries will build and share resources that highlight work by Black writers on allyship. Moving forward, we will place stronger emphasis on our collections and outreach around the work of people of color, such as the archives of Marian Anderson and Ashley Bryan and the Joanna Banks Collection of African American Books. We will continue our work on projects such as the Diversity in the Stacks initiative, which builds library collections that represent and reflect the University's diverse population. We will provide new ways for staff to participate in the Group on Library Diversity (GOLD) and seek leadership roles in other equity, diversity, and inclusion initiatives on campus. And we will make enhancements to both our physical and virtual infrastructures to ensure that all users feel safe and welcome in their interactions with us.
On June 3, Penn President Amy Gutmann released a statement announcing Penn Projects for Progress, a $2 million fund "to seed impactful projects, grounded in outstanding Penn research, that will offer new ideas to enhance the quality of life for members of our community now and in the future." The Penn Libraries joins the University in its commitment to achieving educational equity and ensuring equal access to knowledge for all members of our community.
Libraries are built to serve all people. We are the Penn Libraries, and together we reaffirm our commitment, with the power of our souls and the depths of our hearts, to creating a living and learning environment that is truly safe and welcoming for all.
Constantia Constantinou, 

H. Carton Rogers III Vice Provost and Director of Libraries