Snapshots from a Summer in the Stacks
Get a behind-the-scenes look at an ongoing project to reorganize and refresh the Van Pelt stacks.
What did you do on your summer vacation? If you're one of some 1.5 million books in the Penn Libraries' collection, your summer involved some travel, although not to faraway places.
Our books made some major moves over the spring and summer as part of a multi-phase refresh and reorganization of the Van Pelt-Dietrich Library Center stacks. Read on for behind-the-scenes snapshots and perspectives from the library staff who are making it possible.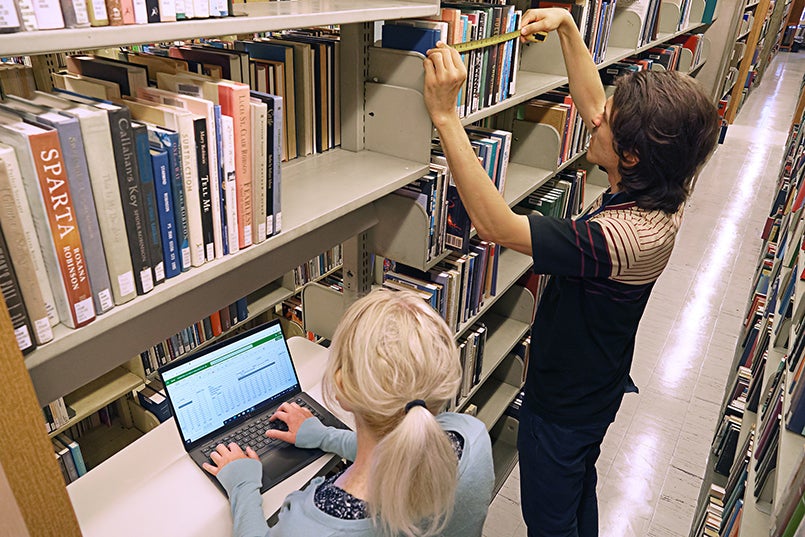 As part of this project, many books were shifted from one area of Van Pelt to another, so stacks would ultimately be rearranged alphabetically by Library of Congress classifications. Knowing how many books were in a given collection wasn't enough information to plan these moves: library staff also had to know how much room they occupied.  
"I had to plan to the inch," says Eileen Kelly, Head of Collection Management. She and her team meticulously measured between 40,000 and 60,000 shelves of books in Van Pelt to plot out the shelf space needed for each part of the reorganized collection. "And we had to be prepared to pivot when things were not landing where they were supposed to be landing," Kelly notes. 

A contractor was hired to help move the books quickly during the summer months when campus is quieter. The daily work involved three teams: some would be responsible for pulling items from the shelves and others would move them to their new locations. Eileen Kelly would coordinate and troubleshoot with the contractor's onsite project manager.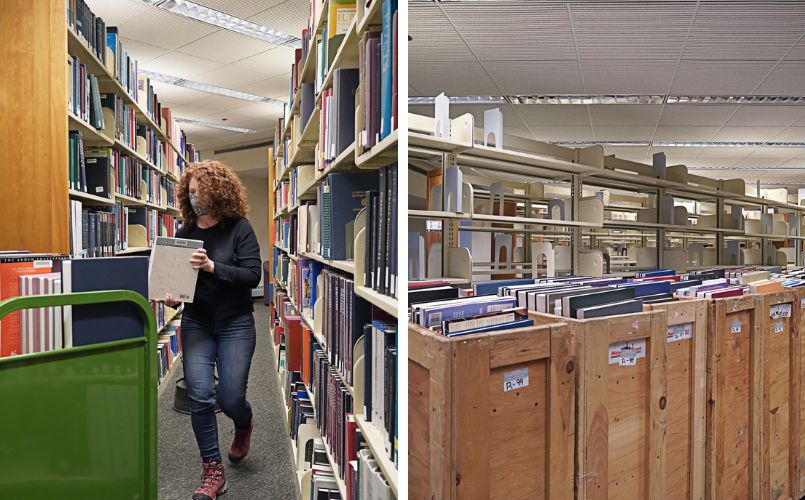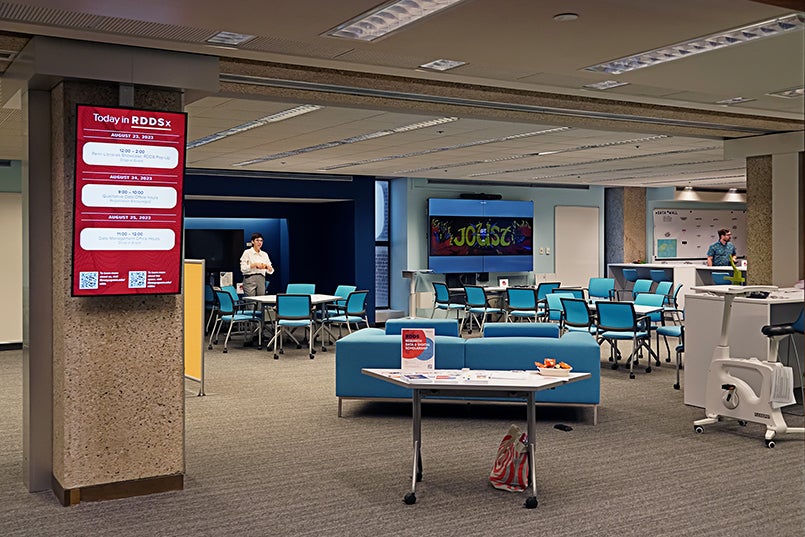 Moving reference collections from the first floor was one of the initial stages of the work in the summer of 2022. These reference books are now incorporated into the general collection, so Penn students, faculty, and staff can borrow them for the first time instead of only consulting them onsite.
After the books were moved, the area was reinvented and redesigned as a collaborative, active space, now home to consultations and events hosted by the Penn Libraries' Research Data and Digital Scholarship team.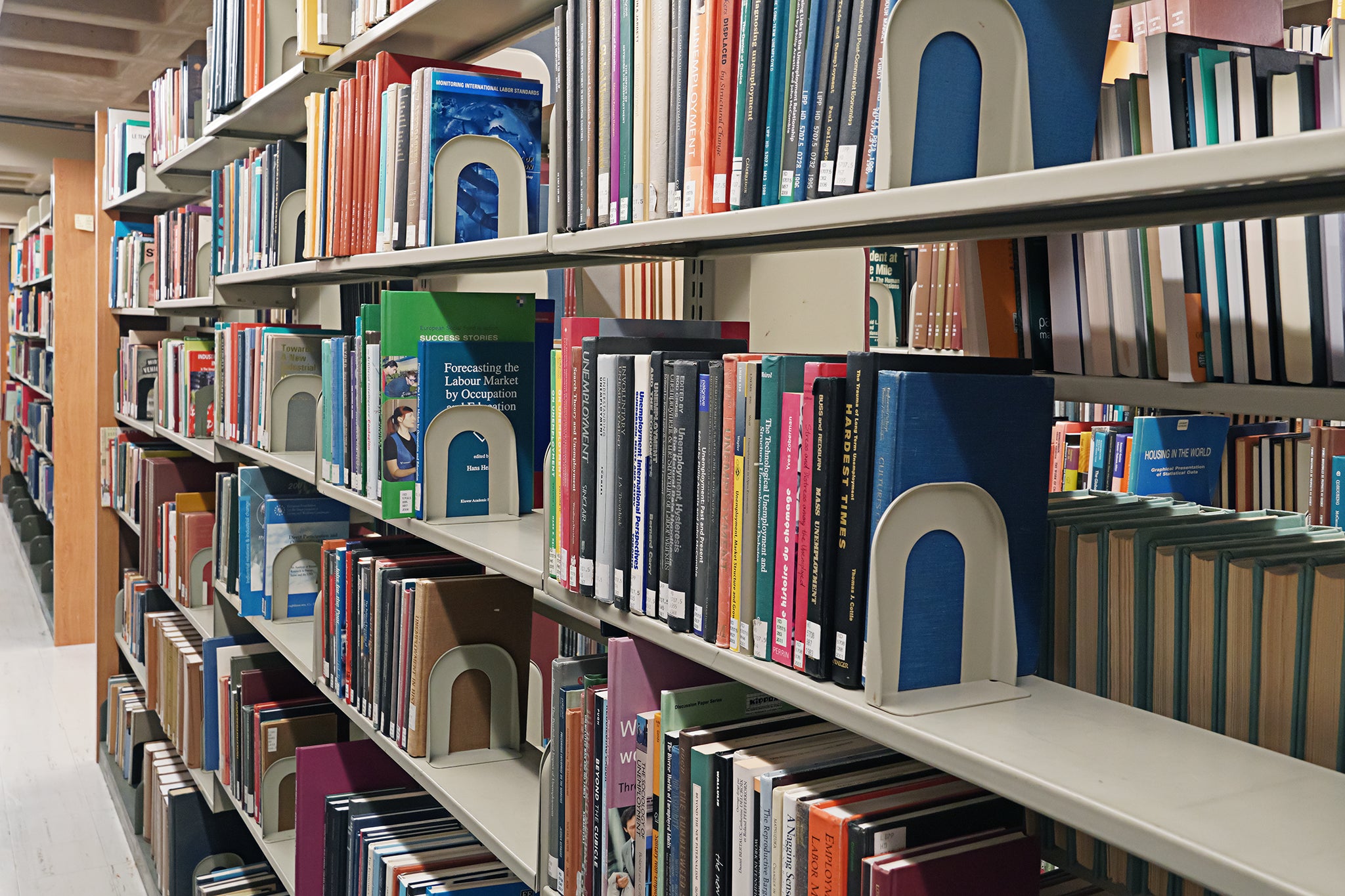 Sharp-eyed visitors might also notice some cosmetic improvements in the stacks. In the midst of the shifting work, library staff took the opportunity to give the stacks a facelift with new endcaps and range card holders, which display the call number ranges held on each row of shelves. Contractors also deep-cleaned and reset the shelves to uniform heights so they're easier to browse. 
All Hands on Deck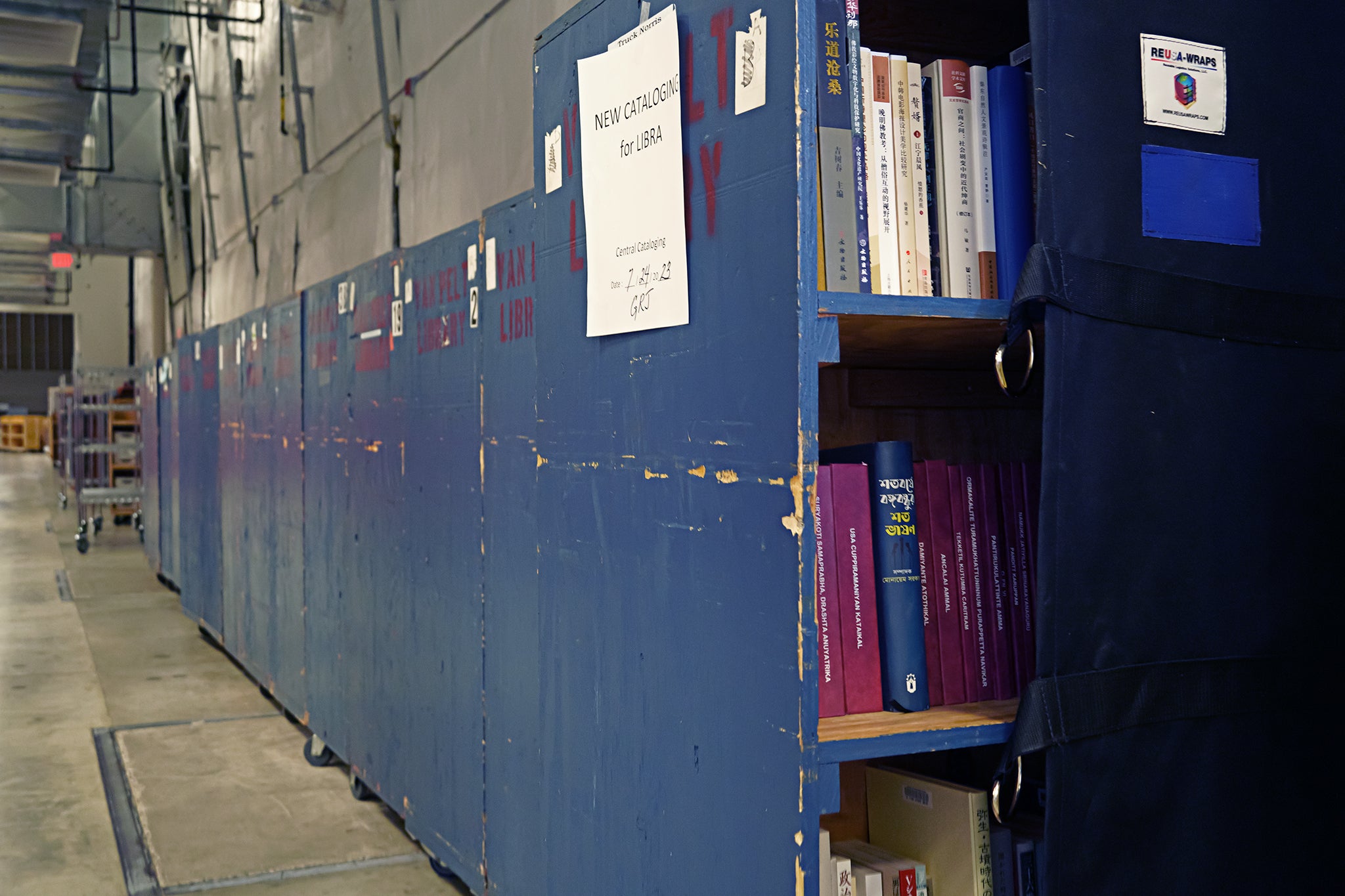 To free up shelf space in Van Pelt and leave room for new purchases, some books that the library also provides online, in addition to many older and less-used items, were transferred to the Penn Libraries Research Annex (LIBRA). During a major transfer of materials in the spring and summer, an all-hands-on-deck approach was needed to get the work done quickly: there were 5 people unpacking and moving books, plus 4 people processing the transfers, working full-time for 2 months at the project's peak. "It was crazy," chuckles longtime LIBRA staff member Kurt Winkelman. "It was an operation," project coordinator Caitlin Peraria chimes in.
LIBRA staff would finish unpacking each morning's deliveries by 3pm that same day, otherwise they'd run out of crates — and space! 

LIBRA uses a high-density storage system, known as the Harvard Model, popular with university libraries. In this system, books are arranged by size, not subject, to make the most of the available space. Books and other items are placed in trays on shelves in racks that are 30 feet high and are retrieved by staff using a modified forklift. Library patrons can request books from LIBRA in the Franklin catalog and receive them on campus within 1-2 business days.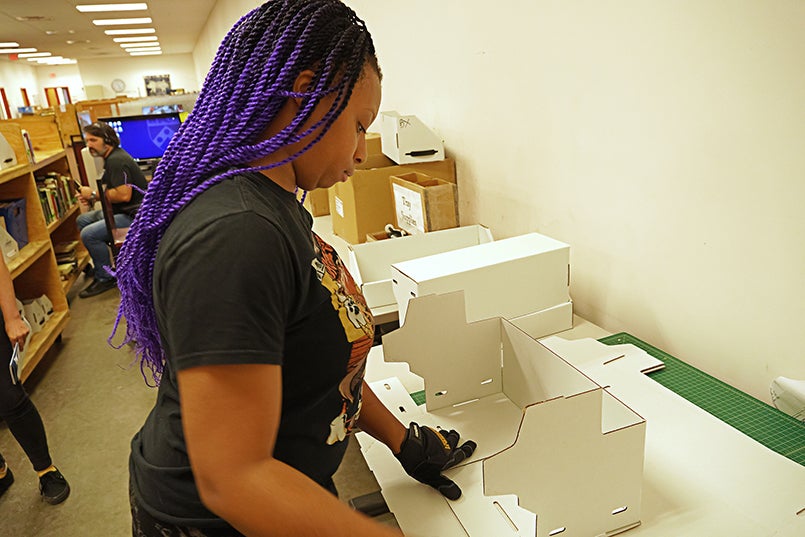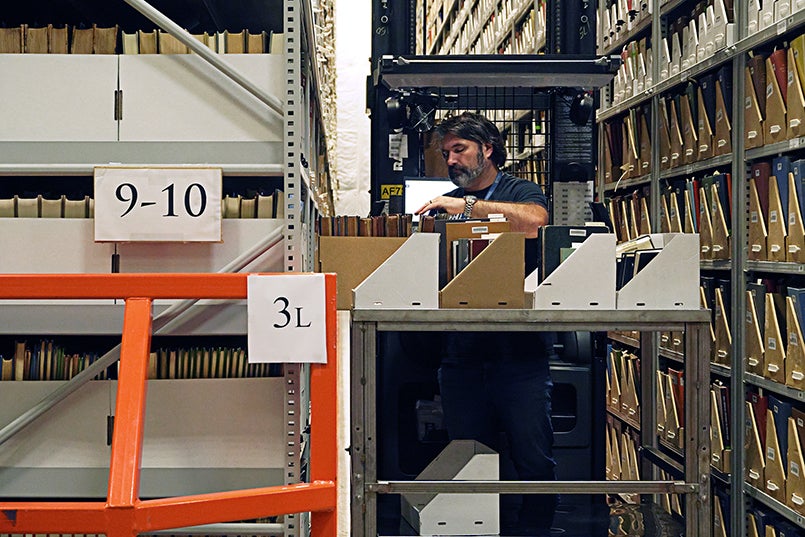 Many of the books that were moved to LIBRA had never been fully cataloged, so staff at LIBRA were charged with the detail-oriented work of entering data and barcoding items. Each person doing this work could typically process 3 crates per day, or roughly 1000 books, if they had already been fully cataloged, and around 100 if they hadn't.

As a result of this bibliographic and barcoding work, the collection is now more findable and discoverable than ever. 
Collaboration, Coordination, and Communication
The planning and execution of the ongoing reorganization project, from big-picture thinking to fine-tuned details, are the work of a dedicated Transfer Coordination Team. The group has been meeting every week for over a year to plan the project, troubleshoot, and manage workflows.
"It has been a fantastic group to work with," says Katia Strieck, the group's chair, expressing gratitude to staff who work in the stacks, the Lippincott Library, circulation, and LIBRA. "Everybody's really stepped up and remained professional," Strieck shares.  
While the bulk of the movement of material in Van Pelt is now complete, there's still plenty of work ahead — including more shifting work in Van Pelt's new Center for Global Collections and additional processing work ("years and years worth," Strieck notes) in LIBRA.
Reflecting on the work that's been done so far, the team is happy to have a well-balanced collection in Van Pelt with space to grow, relieved to have already moved a massive amount of materials, and eager to move on to the next steps.  
"I think a lot of this work was learning how to proactively manage the stacks in this way," says Tom Bruno, who manages circulation, resource sharing, and stacks for the Van Pelt-Dietrich Library Center. "These are lessons that are going to stand us in good stead even after we're out of the project phase and moving forward into the future."