Diversity in the Stacks: Bollywood and Hindi-language Cinema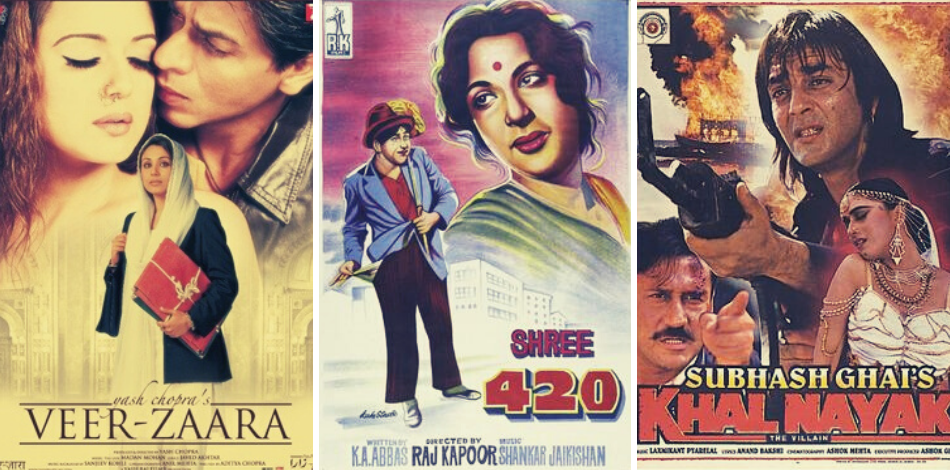 Diversity in the Stacks aims to build library collections that represent and reflect the University's diverse population.
The Penn Libraries collects film and media from South Asia broadly, giving researchers across campus access to a wide-ranging and world-class collection of films from the Indian Subcontinent. Such films are relevant to the work of faculty and students in Cinema & Media Studies, as well as those interested in ideas of representation, globalization, visual anthropology, popular Indian culture, nationhood, and decolonization. Our film collections feature works in many of the official languages of India, Pakistan, Bangladesh, and Sri Lanka, many of which are taught at Penn--Hindi, Urdu, Bengali, Tamil, Marathi, Gujarati, Telugu, Malayalam, Punjabi, Pashto, Kannada--as well as many other scheduled and regional languages such as Rajasthani, Maithili, Nepali, Sinhala, Newari, Sindhi, Assamese, Konkani, Braj Bhasha, Lahnda, Odia (formerly Oriya), Bhojpuri, Kashmiri, and Khasi.
You will find a mix of South Asian films among the DVDs in the Van Pelt Video Collection, off-site collections in LIBRA, and in films available through streaming video platforms from the Penn Libraries. There are more South Asian films in Hindi than in other languages. Hindi ranks as the 12th most common language in the Penn Libraries collections, but it is the 7th most common language among the Penn Libraries film collections.
This should not come as a surprise given the voluminous cinematic output of the Indian film industry centered in Mumbai. The production of Hindi-language cinema and entertainment for popular audiences in Bombay, known as Mumbai from 1995 on, is what many people since the 1970s have called Bollywood. The term is not without controversy. Some scholars choose to use other descriptors, like "Bombay cinema" or "Hindi-language cinema." Scholars like Rosie Thomas have argued that it is problematic for scholars to write about Indian popular cinema as 'other,' exotic, or an imitation of Hollywood. Indian film industries evolved independently from the film culture in the United States and their conventions draw from literary, song, and dance traditions that pre-date moving pictures.
The amount of film released out of Mumbai continues to surpass the U.S. film industry, despite the worldwide pause in entertainment production caused by COVID-19. It was not always this way. Indian filmmakers have been engaged in producing cinema since the advent of film, but it was only after sound film appeared that production increased. India saw transformational change during this period, including the violence and tragedy of Partition, political upheaval, and the founding of institutions.
Though there are more speakers of Gujarati and Marathi in Mumbai, film directors and producers, influenced by Indian Independence Movement figures, chose a version of Hindi spoken across northern India as the spoken language of choice for films made there. Standard Hindi, what British colonialists called "Hindustani," is most widely spoken and understood throughout India, and it would be key to the creation of a national market for film. Today, Bollywood is synonymous with the Hindi-language film industry, even when some argue that the status of Hindi in film is "precarious." Life in Mumbai's industry of film production, as in other parts of India, remains multilingual and full of code switching, but with an increasing reliance on, or, some might say, incursion of, English mixed into Hindi and India's other major languages.
Many consider the silent film Raja Harishchandra to be India's first film. It was made outside of Pune, the second largest city in Maharashtra after Mumbai. The film featured a mix of intertitles in Hindi, English, and Marathi, the first language of director Dundiraj Govind Phalke. Unfortunately, it does not completely survive today. This is one of the challenges to researchers interested in Hindi cinema from its early days into the 1940s. Many films have never been restored or transferred to home video formats, and the original films have over time partially decayed, or have disappeared entirely. As in all parts of the world, films continue to be discovered in archives.
There are proponents for film preservation in India, such as the Film Heritage Foundation (FHF) in Mumbai and the National Film Archive of India, but as documentarian Shevendra Singh Dungapur points out, India had lost most of its early cinema heritage. Fires caused by nitrate films were part of the problem, but the more obvious culprit of the decay of early films is the humid climate and lack of resources for climate-controlled storage in India. Poverty and the market for scavenged silver is another significant contributing factor. Countless films have been lost to history because film reels have been recycled and stripped for relatively small amounts of silver. The fate of one of the last remaining copies of India's first sound film, 1931's Alam Ara (The Light of the World) by Ardeshir Irani, met this exact fate. It was sold surreptitiously by the filmmaker's son for the value of its silver.
Film production began to ramp up in Mumbai after sound films made their debut in the 1930s. From the 1930s until the 1960s, filmmakers produced films in a wide variety of genres, including melodramas and romances, adventure films, film noir, historical costume films and biopics, religious and devotional films, and of course, musicals. In South Asia, film producers found that they could attract the largest audiences with musical films in a way almost unlike any other national cinema. The performances contribute to the long running times of Hindi films, in some cases over four hours.
Song and dance have been an integral part of Indian cinema since its beginnings, and fans will explain that a film simply is not a film without its music. Screenwriters and filmmakers also rely upon musical numbers to propel the plot forward. In non-musical Western films, music helps to set the mood and tone. However, in Bollywood, numerous musical performances, often accompanied by dance, make for character-based, immersive and emotional storytelling. Critics in recent decades also credit Western influences and the advent of long-form, high-production music videos on MTV for glamorizing the lavish choreographed song and dance sequences. 
There is a mix of cultural reasons that Hindi cinema by default requires the inclusion of music or performance. Much can be said to draw from a time before film, from a combination of Rajasthani or other regional rich storytelling traditions, from Sanskrit drama and stage tradition, from theater traditions from within diasporic Parsi communities, from the Urdu ghazal which is a traditional poetic form that dwells on romance and longing. 
These scenes may be most familiar to American audiences from films such as Monsoon Wedding (2001). Priya Joshi points out that at the time of its release, Monsoon Wedding was the "top grossing Indian film in the US" but also "shamelessly pilfered aspects of the [Hindi-language film] industry's popular culture formula, sterilized it, peopled it with Delhi's consumerist elites." While a commercial success in the U.S., Joshi criticizes the film's selection of tropes, which include the fortune of finding love within arranged marriage and a budding teenage love-match, and christens the film "Bollywood Lite'' or "Bollylite." Critic David Chute of Film Comment, however, praised the film for its "organic" shots and Super-8 "handheld realism" that brings us an inside view of "middle-class" Indian family life but universally uplifting with its "infectious charm."
Popular music and film are inextricably linked in South Asia. Films help to sell music recordings, and these recordings help audiences to recall their memories of a film. Indian film producers are quick to recognize that film music rights are a big business, and on average reap more royalties than film music in other countries. Additionally, film music has become part of the remix culture of popular Indian music, today propagated by DJs who act as digital turntablists and create endless versions of electronic dance music, juxtaposing Indian film music with samples from American, African, Middle Eastern, and European music, layering tracks, beats, and sounds over one another to make old music new again.
In the 1960s and 1970s audiences could not get enough of sensational drama, but they wanted realism. In response, Bollywood began to seek a way to blend in elements of all genres, creating films that mixed romance, drama, comedy, action, and social and political commentary. Storylines addressed crime and poverty and featured edgier characters like gangsters and bandits. They also pushed the envelope with portrayals of violence, vice, and the urban criminal underworld. This produced the masala film, which mixes genres like action, comedy, romance, and melodrama, while still involving several musical numbers in order to maximize audience appeal. This classic Bollywood approach of sampling multiple genres in a single film is very much still prevalent in filmmaking and Bollywood blockbusters today.
Penn Libraries collections of Hindi film feature a range of popular and historically significant cinema that chronicles the growth of film culture in India, particularly the output of Bombay. It includes physical media, most of which are DVDs, as well as a growing collection of streaming video that includes films assigned in or used in courses at Penn.
Beyond its music and dance Bollywood films can feed into discussions and raise questions about representation, globalization, visual anthropology, and popular Indian culture. While it is sometimes possible to find footage or outtakes transferred onto YouTube by amateurs and use them to provide context for research or class presentations, Van Pelt's video collections offer access to films for those who may not have immediate access or subscriptions to streaming services that are common choices for viewing Bollywood movies, such as SonyLIV or VOOT (via Sling TV in the U.S.), Disney+ Hotstar, ShemarooMe, Eros Now, or Spuul. 
If there are Hindi-language or Bollywood films that you would like to see in the Penn Libraries collection, please feel free to suggest a purchase or reach out to South Asian Studies Librarian Jef Pierce or Cinema & Media Studies Librarian Charles Cobine. The filmography below highlights some of the films and popular Hindi film directors that you will find in the Penn Libraries collection.
---
Filmography