Diversity in the Stacks: Indo-Caribbean Identity
 Diversity in the Stacks aims to build library collections that represent and reflect the University's diverse population. 
From 1838 until the end of the Indian indenture system in 1917, more than a half-million South Asians were brought to the Caribbean to labor on British, French, and Dutch sugarcane plantations. There, Asian, African, indigenous, and European customs commingled and gave rise to a distinct Indo-Caribbean culture that continues to flourish in Trinidad & Tobago, Guyana, Suriname, Jamaica, and other Caribbean islands.
Over the past five years, Penn Libraries has been broadening efforts to collect materials related to South Asian diasporas, supported by both increased interest on campus as well as financial contribution from the Singh Family Fund. The increasing representation of Indo-Caribbean peoples in our collections is revealing histories, communities, and cultural expressions that have remained underrepresented in most research libraries and understudied in scholarly discourse. 
Our diasporic materials from the Caribbean represent a variety of publication genres and expressive forms, reflecting Penn's notable strengths in the study of South Asian performance and art history. These holdings include commercial publications for popular consumption (Golden Heritage), scholarly analysis for academic audiences (Music of the Indian Diaspora in Trinidad and The Impact of Indian Movies on East Indian Identity in Trinidad), as well as exhibition catalogs for arts communities (Inward Journey). 
Working with small booksellers and publishers throughout the Caribbean, we've begun to acquire more niche items, such as micro-level family histories (Immigrant #99840 and Canecutter #7074 and Bengal to Barbados), annual Indo-Caribbean Cultural Council souvenir magazines celebrating Divali and Indian Arrival Day, and self-published works that assert a pronounced Indo-Caribbean identity (Growing Up Guyanese and Stories and Recipes from the Indian Dancer).  
Our recently acquired collection of Indo-Caribbean postcards is of particular scholarly appeal. Produced from the late 1800s to 1975, the postcards depict staged vignettes from Indo-Caribbean life and speak to the exoticizing interests of American and European audiences. Produced by a variety of studios for the tourist market, these postcards were sent to a wide range of locales, including the U.S., Iceland, Tunisia, France, Holland, and Germany. Penn professor Rupa Pillai, whose research focuses on Indo-Caribbean communities, has been utilizing these postcards as a pedagogical tool to engage undergraduate students with the ongoing legacies of indenture. (Pillai will be teaching an undergraduate course titled The Asian Caribbean this spring semester).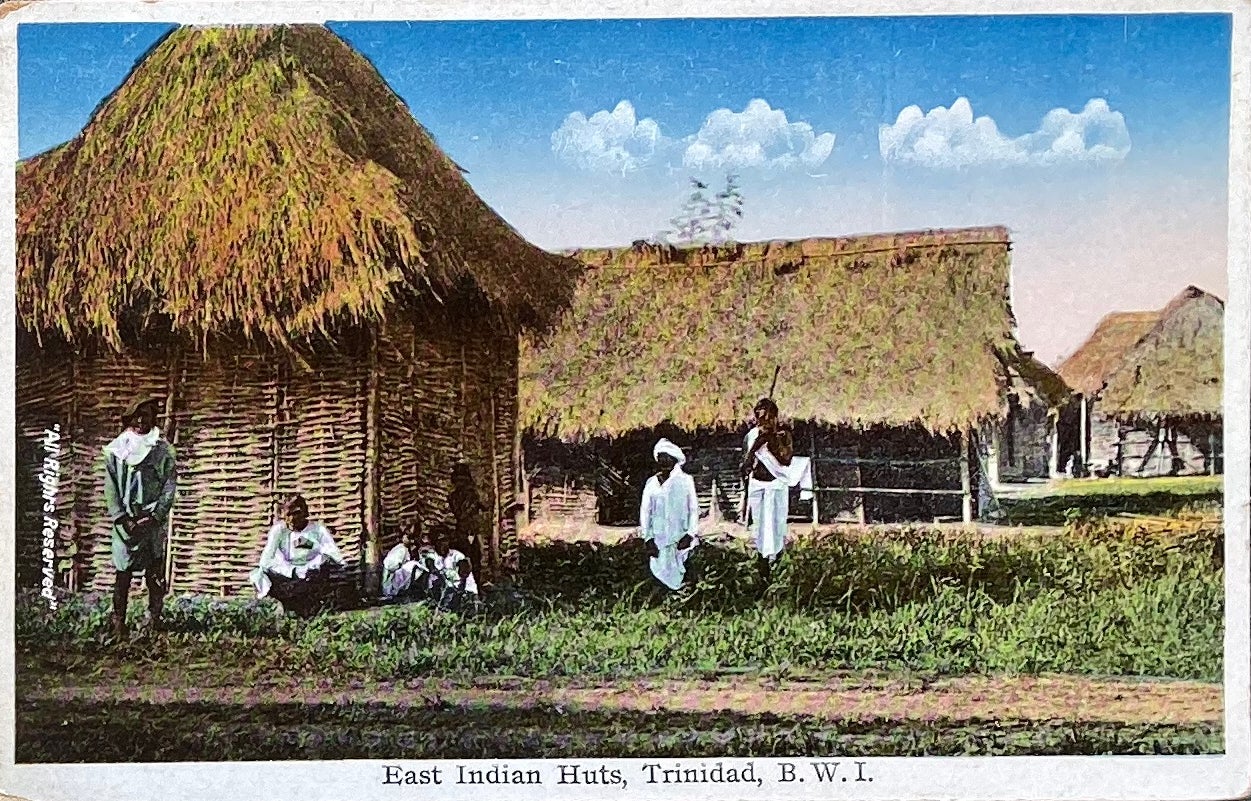 The Indo-Caribbean collection also offers a number of uncommon biographies and printed speeches of influential leaders. A volume on Simbhoonath Capildeo considers Hindu nationalist discourse in Trinidad & Tobago; Through the Political Glass Ceiling traces the rise of Kamla Persad-Bissessar as Trinidad & Tobago's first female prime minister; and a collection of printed speeches by prominent Guyanese politician Shridath Ramphal – including "The Black must be Discharged" and "Let the Slave Go Free" – addresses the most pressing issues facing the nation in the 1980s. Additionally, analyses such as Deadlock offer assessments of Trinidadian electoral disputes, while biting satire found in Parsram Thakur's collection of commentaries and editorial cartoons critiques the Guyanese political establishment.  
In coming years, the Penn Libraries expects to expand our Indo-Caribbean collection in the areas of literature, ephemera, and non-English materials in regional Hindustani dialects as we strive to highlight the diversity of voices that too often remain at the periphery in collection development and academic research.