New Exhibition Celebrates the Legacy of Renowned Author and Illustrator Ashley Bryan
Beautiful Blackbird: The Creative Spirit of Ashley Bryan is on exhibit from April 6 to July 21.
A new exhibition at the University of Pennsylvania Libraries celebrates the life and legacy of the renowned artist, author, and humanitarian Ashley Bryan (1923-2022) during his centenary year. Beautiful Blackbird: The Creative Spirit of Ashley Bryan, on exhibit from April 6 to July 21, 2023, is free, open to the public, and appropriate for all ages. 
The exhibition explores Bryan's century-long story, that of a man seeking his place in a world that did not always welcome him, finding himself through observation and expression, and using his creative gifts to make sense of his life and to help others to do the same.
"Beautiful Blackbird will be the first exhibition to tell the story of Ashley Bryan's life through the decades, tracing a path weaving back and forth through all the places where he lived and worked," says curator Lynne Farrington, Director of Programs and Senior Curator in the Kislak Center for Special Collections, Rare Books and Manuscripts at the University of Pennsylvania Libraries.
The path is one that spans eras and continents. Bryan spent his childhood in New York City, served in a segregated Army unit in Europe during the Second World War, later returning to Germany as a Fulbright scholar. For the last 50 years of his life, he made his home on Little Cranberry Island, just off the coast of Maine. 
All aspects of Ashley Bryan's artistic life will be on display in this exhibition, Farrington notes. Best known as a writer and illustrator of children's books, Bryan was also a musician and poet, painter and printmaker, storyteller and performer, maker of puppets and sea-glass panels, and creator of drawings and collages. 
Visitors will see Bryan's paintings, illustrations, handmade puppets, and other art, including some of his earliest work, in addition to items that inspired his artwork and books. "If you're already familiar with Ashley Bryan, you'll have the opportunity to learn a lot more about his life—and if you're not, you'll get to experience his amazing artwork in the context of his long and productive life," Farrington explains.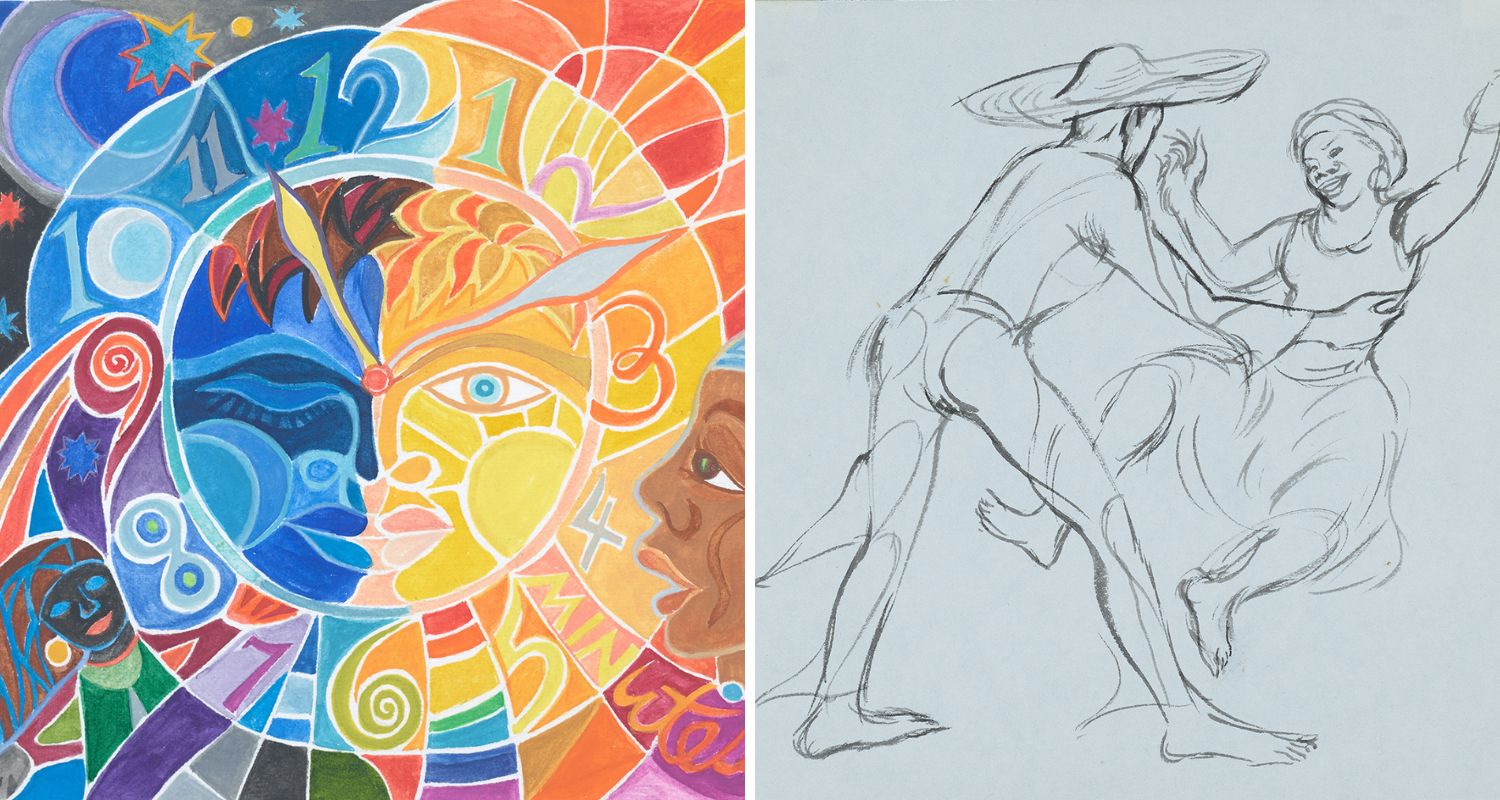 Ashley Bryan became a prolific author and illustrator of children's books in the second half of his long life and was celebrated as one of the pioneers who introduced characters of color—whether African, Caribbean, or African American—into the genre. Bryan won numerous book awards, including a Newberry Honor for Freedom Over Me and multiple Coretta Scott King Awards, as well as the Coretta Scott King—Virginia Hamilton Lifetime Achievement Award and the Laura Ingalls Wilder Award in 2009 for his contribution to American children's literature. He was named a 2008 New York Public Library Literary Lion, along with Edward Albee, Nora Ephron, and Salman Rushdie. He mentored many younger authors and artists over the years, freely sharing his support for their work. 
Beautiful Blackbird will draw heavily from Bryan's extensive and culturally rich archive, which contains hundreds of original works documenting his career. In 2019 the Ashley Bryan Center donated Ashley Bryan's archive to the Kislak Center, and after nearly 19 months of careful processing, the archive is now available to the public. 
The Life and Legacy of Ashley Bryan: A Symposium will open the exhibition on April 6 and 7, 2023, beginning with a tour of the exhibition by the curator, Lynne Farrington. This will be followed by a welcome from Constantia Constantinou, H. Carton Rogers III Vice Provost and Director of Libraries, and a keynote presentation by Javaka Steptoe, the award-winning illustrator, artist, and author.
The symposium will continue on Friday, April 7, with a range of speakers, including: 
Kirsten Cappy (Executive Director, I'm Your Neighbor Books) 
Lynne Farrington (Exhibition curator and Director of Programs/Senior Curator, Kislak Center) 
Jan Spivey Gilchrist (Artist, author, and illustrator) 
Jennifer R. Gross (Curator, Colby College exhibition, Ashley Bryan / Paula Wilson: Take the World Into Your Arms) 
E.B. Lewis (Artistrator and Visual Mentor) 
Vanesse Lloyd-Sgambati (Founder, The African American Children's Book Project) 
Daniel Minter (Artist and illustrator, co-founder of Indigo Arts Alliance) 
Alison Morris (Senior Director, Title Selection, First Book) 
Karyn Parsons (Actor, Founder, and President, Sweet Blackberry Foundation) 
Sibylla Shekerdjiska-Benatova (Founder and Executive Director, A Book a Day) 
Dr. Ebony Elizabeth Thomas (Associate Professor in the Joint Program in English and Education at the University of Michigan's School of Education) 
Ashley Valentine (Art Manager, Pippin Properties) 
For more information about the exhibition and opening symposium, visit the Penn Libraries website. 
For press inquiries, please contact Monica Fonorow. Find a selection of images and captions approved for publication on Box. 
Visitor Information 
This exhibition is free, open to the public, and appropriate for all ages. The exhibition is located in the Goldstein Gallery on the 6th floor of the Van Pelt-Dietrich Library Center at the University of Pennsylvania Libraries. Gallery hours are from 10 a.m. to 5 p.m. on weekdays. Weekend visits may be arranged by prior appointment.
Penn faculty, staff, and students must swipe their PennCard for access. Visitors from outside the Penn community must present a current, valid government or school-issued photo I.D. that contains an expiration date. Find more information to plan your visit. 
About the Kislak Center  
The Kislak Center for Special Collections, Rare Books and Manuscripts advances learning and inspires discovery in Penn's community and around the world. The goals of the Kislak Center align with those of the Penn Libraries as a whole: to make our collections accessible; to use technology in innovative and meaningful ways; to enhance teaching and research; and to preserve our cultural resources for future generations.   
About the Penn Libraries
The Penn Libraries provides a network of information resources and knowledge services that are vital to teaching, research, and learning at the University of Pennsylvania. This network includes 19 physical libraries, recognized for their collections, and a digital library known for innovation and richness of content. Through exhibitions and lectures, and through the acquisition and preservation of literary and artistic artifacts, the Penn Libraries documents a wealth of social and historical periods, bringing scholarship to life at the University and in the various communities it serves. 
Featured image: Ashley Bryan holds a copy of his memoir, Infinite Hope, during a December 2019 visit to the University of Pennsylvania. Photo by Eric Sucar, University Communications.