Penn Libraries Acquires Two Significant Collections of Sun Ra Archival Materials
The University of Pennsylvania Libraries has acquired two important collections that illuminate Sun Ra's artistic output and his influence on American music and culture.
The University of Pennsylvania Libraries (Penn Libraries) has acquired two important collections that illuminate Sun Ra's artistic output and his influence on American music and culture, including the research file of jazz historian John Szwed, author of the biography Space is the Place: The Lives and Times of Sun Ra.
As a composer, bandleader, piano and synthesizer player, Le Sony'r Ra — born Herman Poole Blount and better known as Sun Ra — produced dozens of singles and more than one hundred full-length albums, making him one of the most prolific recording artists of the twentieth century. He was also an actor, poet, painter, philosopher, and a pioneer of Afrofuturism, whose former living and workspace in the Germantown neighborhood of Philadelphia was added to the city's Register of Historic Places in 2022.  
"The Penn Libraries has made it a priority to build special collections in the performing and visual arts that reflect the Philadelphia community's rich cultural heritage," says Sean Quimby, Associate University Librarian, Director of the Jay I. Kislak Center for Special Collections, Rare Books and Manuscripts, and Director of the Schoenberg Institute for Manuscript Studies. "These collections open new vistas of opportunity to explore Sun Ra's career, his ties to Philadelphia, and the creative roots of Afrofuturism."
Szwed's substantial research archive, much of which was compiled during his writing of Space is the Place, includes a number of unique and rare materials. Among them are a large paper file of letters from those who were close to Sun Ra or knew him from his earliest years; a run of 50 issues of the Sun Ra Quarterly and Sun Ra Research Magazine, containing band interviews, photos, and poetry; sheet music and lists of many compositions and arrangements that were never recorded; and 15 audio cassettes of Sun Ra's radio programs, including those on WXPN.
"In addition to being unique, the archive is essential to understanding Sun Ra's life and importance," John Szwed shares, noting that many of the materials he assembled were never published or reprinted. Szwed will discuss his collection in a virtual public talk on Friday, October 20, at 12pm.
A second collection, acquired from Boo-Hooray gallery in New York City, focuses on visually compelling materials, with original album art, photography, performance flyers and posters, publications, press materials, and ephemera. Together these items trace the career of Ra and his band, the Arkestra, known for its revolving cast of dozens of musicians that included Marshall Allen, Don Cherry, John Gilmore, and June Tyson, among others.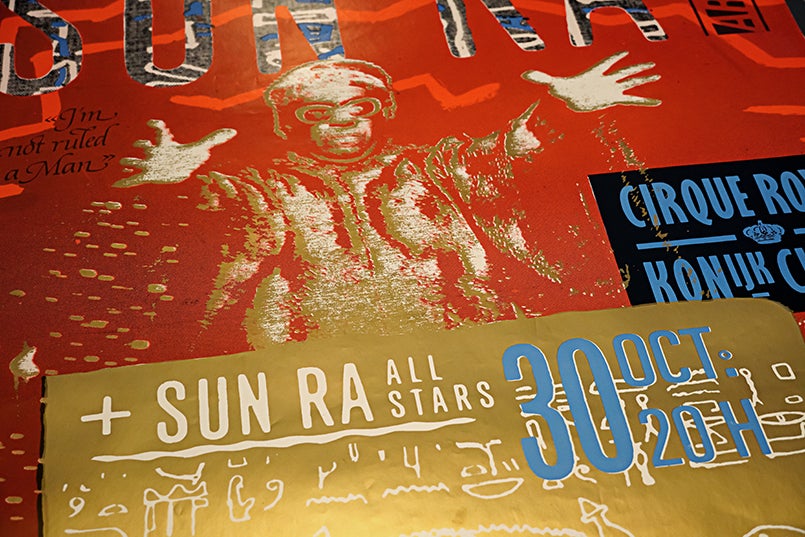 "This collection underscores the visual culture of the overall scene, which would become what we think of as Afrofuturism," says Quimby. "Whether it's the album design work, the posters, the publications — it's really all about building community around a multi-media aesthetic."  
The work of Sun Ra's many artistic and business collaborators is highlighted through materials connected with his record imprint and publishing venture, El Saturn Records, including ephemera and correspondence from his friend and business manager Alton Abraham. While the greatest concentration of materials spans the 1960s to the 1980s, the collection also includes items that date from the 1950s, 1990s, and 2000s.
Throughout the 1960s, Ra lived and worked in Philadelphia, New York and Chicago. In 1968 he and some members of the Arkestra moved into a rowhouse at 5626 Morton Street in the Germantown neighborhood of Philadelphia. Ra periodically lived and rehearsed in the house — known alternately as the Arkestral Institute of Sun Ra, or the Sun Ra House — until his death in 1993. The City of Philadelphia officially added the house to its Register of Historic Places in May 2022.  
For the Penn Libraries, these acquisitions complement a growing number of collections focused on Philadelphia culture and community, including the archive of pioneering contralto Marian Anderson, the archives of the Philadelphia Orchestra and Academy of Music, and the papers of legendary conductors Leopold Stokowski and Eugene Ormandy.
"We are thrilled that the Penn Libraries has acquired these wonderful collections of correspondence, compositions, and ephemera," says Timothy Rommen, Chair, Department of Music, and Davidson Kennedy Professor in the College Departments of Music and Africana Studies. "That Penn faculty and students will be able to engage deeply with the artistic and cosmic worlds of Sun Ra who, along with his Arkestra, are central to the rich cultural history of Philadelphia, is truly exciting."
The Penn Libraries' collections cover a variety of examples of Afrofuturism, from sound recordings, film, and artwork to fiction, comic books, and graphic novels.
"Today's undergraduates, who are often introduced to Afrofuturism through global franchises such as the Black Panther movies, frequently never learn of distinctively African American grass roots forerunners like Sun Ra," says Nick Okrent, Coordinator and Librarian for Humanities Collections. "These unique collections will support pedagogy and public exhibits introducing Sun-Ra to new audiences and will provide local African American intellectual context to a global phenomenon."
A public exhibit on Sun Ra and Afrofuturism, to include complementary lectures, panels, and concerts, is tentatively scheduled for August 2026.
"These materials will undoubtedly spur new research, enable innovative curricular opportunities, and further our commitment to engaging with the sound worlds of Philadelphia," says Jasmine Henry, Assistant Professor of Music. "We all look forward to the new insights into Sun Ra's imaginative vision for social justice and pioneering creative practice that will emerge through explorations of these invaluable collections."  
About the Kislak Center
The Kislak Center for Special Collections, Rare Books and Manuscripts advances learning and inspires discovery in Penn's community and around the world. The goals of the Kislak Center align with those of the Penn Libraries as a whole: to make our collections accessible; to use technology in innovative and meaningful ways; to enhance teaching and research; and to preserve our cultural resources for future generations.  
About the Penn Libraries
The Penn Libraries provides a network of information resources and knowledge services that are vital to teaching, research, and learning at the University of Pennsylvania. This network includes 19 physical libraries, recognized for their collections, and a digital library known for innovation and richness of content. Through exhibitions and lectures, and through the acquisition and preservation of literary and artistic artifacts, the Penn Libraries documents a wealth of social and historical periods, bringing scholarship to life at the University and in the various communities it serves. 
Featured image: Sun Ra Research, Issue 23 (June 1999). Kislak Center for Special Collections, Rare Books and Manuscripts; University of Pennsylvania Libraries.